The Lead Developer of verus coin Micheal Tout shared his experience with cryptocurrencies. The adaptability of cryptocurrencies and popularity amongst smart masses is increasing in very unseen and common areas. One such example can be seen in the tweet shared below where Mike bought Pasta and paid through verus coin.
This low level acceptance of cryptocurrencies can turn into a payment medium for simple and common household items for which cash is always considered a payment medium. These household items and groceries accepting cryptocurrencies is quite astonishing.
Not needing cash and dealing with cryptocurrencies for everything will be a great concept as prices will get more stable. If you won't need FIAT and you can purchase everything for cryptocurrencies, no need to sell your assets, and no price drops.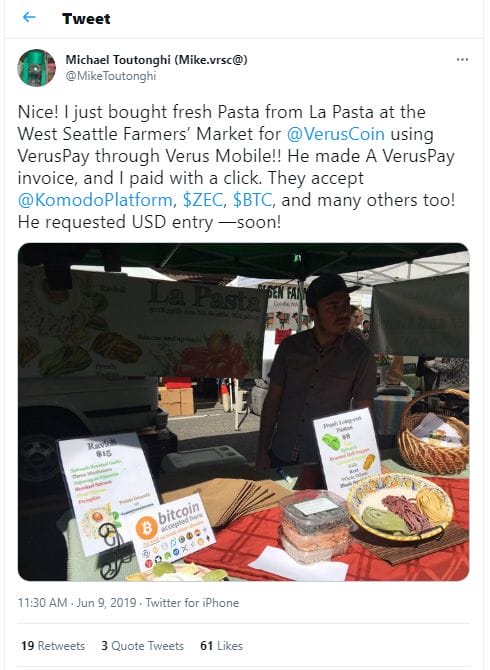 VERUS PAY?
Install Verus mobile wallet from github.
Create a wallet.
Backup your seed phrase.
Select Verus Coin from Home.
Go to Receive.
Click on Generate Invoice.
Anyone Can scan the QR code to pay you. All Done!!!
When you have connected metamask with the binance smart chain, adding tokens can be a challenge. If you are new, you are most probably searching for the token name in metamask but this will not work, cause metamask doesn't recognize BEP-20 tokens yet.
Please read this article if you don't know how to synchronize MetaMask with BSC.
There is a simple solution to this.
Go to Binance Smart Chain.
Search for the token in the search bar.
Copy Contract Address.
Go to MetaMask.
Add Custom token, paste the address.
You are Done!!!
MetaMask for Binance chain?
It is a browser-based extension for Binance Chain, Binance Smart Chain, and Ethereum. You can send receive, store on the Binance Chain, smart chain, and Ethereum network. Binance chain wallet also allows connectivity with dApps built on the smart chain.
Binance chain wallet is a browser extension available for Chrome, Firefox, and Brave. It's easy to use and has a slick UI. The user interface is as easy and fast as Metamask. You can also connect the Binance chain wallet with the Binance trading platform using wallet direct.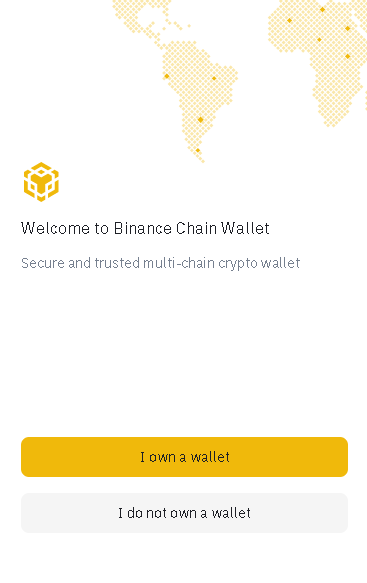 Just like Metamask, the Binance chain wallet is also a secure and client-side wallet. The authentications and signing with dApps are secure without providing access to private keys. If you want help and more info you can join the Binance community to get help from thousands of users.
WalletConnect is Not A Wallet!
WalletConnect is an open-source protocol to connect between dApps and mobile wallets. A user can simply scan a QR code on the web app and manage funds from their mobile. This makes wallet connect a protocol for both dApps and wallets.
Have you ever used WhatsApp web? You scan a QR code and instantly use WhatsApp on your browser. Let's say Wallet connect is the QR code service for Ethereum wallets.
WalletConnect will convert a mobile wallet to Meta Mask or Binance Chain wallet. You can sign and verify transactions from your mobile that are initiated on a web app.
How does it work?
The protocol establishes a remote connection between two apps or devices. The session is started by scanning a QR code (desktop) or by clicking an application deep link on mobile. Communication happens over a bridge server that relays messages without exposing data.
Wallet connect does not charge any fee. There is no token or blockchain association of any kind. The source code is available on GitHub. There is extensive documentation for developers and deep analysis.
Supported Wallets and DApps
There are dozens of supported wallets. The most popular are Trust, Metamask, Atomic wallet. These wallets support and need wallet connect to provide users access to the Ethereum world.
There are also a huge and popular number of platforms that have integrated WalletConnect. OpenSea is one of the most popular platforms these days.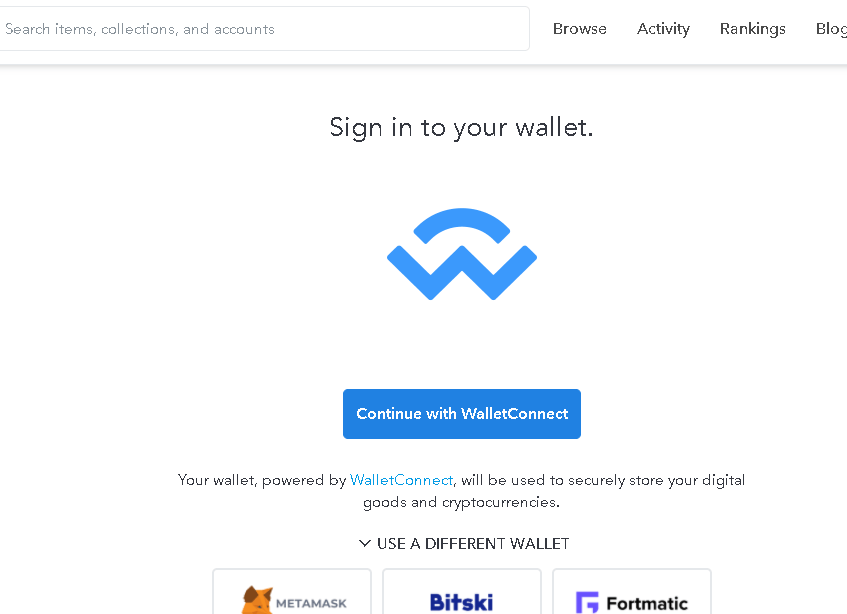 TAKING ORDERS
(VRSC TO KMD)
Popular coins have more open orders to fill, and these types of coins can be swapped instantly, such is verus. It is an independent project developed on the Komodo ecosystem. The liquidity increases on a daily basis with a lot of orders to fill.
Go to trade and select your preferred coin (vrsc in this case), select amount (max if you want to trade everything). You will automatically be displayed what you will receive.
Select the coin you want to trade against (You will automatically be displayed the amount received). Please note if you create and order it will have no fees but will take time to fill if there is no popular demand/liquidity.
After tapping trade you will receive a screen asking confirmations and displaying the rate of exchange by comparing it to other cryptocurrency exchanges.
Use custom protection settings allows you to make faster swaps and waiting periods by lowering the settings but there will be less security (potential double spends). This usually occurs because faster transactions will have less confirmations.
Select confirm and the swap will begin step ⅓ is order matching. This means your order and amount (taker) is now being matched with the one by maker.
Step 2 is swap on going, order is matched your coins will be converted any moment.
Trade completed and your newly swapped coins are in your wallet.
Why the custom connection?
All of the DApps (Decentralized Applications) developed on Binance smart chain work with an Ethereum wallet. However, while using an Ethereum wallet you need to connect to BSC nodes.
This is mainly due to the difference between the token standards. The Binance DEX or the Binance chain uses BEP-2, while the Binance Smart chain uses the BEP-20 token standard.
The DApps developed on the smart chains have a modern standard than the DEX itself. This requires users to connect their standard Ethereum wallet to BSC nodes. This needs a small modification, however, the features are the same as using MetaMask with any dAPP.
How to connect?
Download Metamask extension into your browser.
Create a wallet, save the backup seed.
Click on the account icon and from the dropdown menu click settings.
Go to the networks menu and select Add network.
Enter the information as follows: (This is BSC mainnet)
Network Name: Smart Chain
New RPC URL: https://bsc-dataseed.binance.org/
ChainID: 56
Symbol: BNB
Block Explorer URL: https://bscscan.com
Let's connect with a BSC DAPP
Let's head over to pancakeswap to check our connection. Pancakeswap is the number 1 automated market maker to the Binance smart chain. It is developed on the Binance smart chain token protocol.
Introduction
Verus desktop wallet is a multi-coin and multi-purpose cryptocurrency wallet. It is a cross-platform wallet available for Android, iOS, Windows, OSX, Linux, and ARM. Users can access testnet, VerusID, DEFI, and reserve pools (on testnet).
Verus desktop platform is developed to showcase the full extent of the verus blockchain. Most of the features are in the development phase but can be accessed using the test-net.
The wallet is developed on javascript. This makes verus wallet a platform-independent software. The JS development also makes the verus desktop quick and lightweight. The latest version is v0.7.2-8 released on 15th February.
The Wallet
The user interface is simple and intuitive while keeping security and privacy in mind. You can choose from 50 plus coins and tokens, all of the major FIAT currencies. Verus desktop isn't just a wallet but a gateway to the whole verus ecosystem.
Features
You can do a lot of things when using the verus desktop application, some of the most notable are.
Send, store, and receive coins.
Transparent and private addresses.
Mine and stake verus.
Explore the multi-verse (PBAAS in development).
Create and revoke Verus ID.
Work with the verus testnet.
Create fractional currencies without programming (PBAAS).
Create multiple profiles/accounts.
Add different seed/backup to different coins or one seed to a complete profile.
The Atomic Swaps market works on makers and takers trading. In this method, people who create orders are called makers, and those who fill those orders are takers. The order book is updated instantly when an order is made or matched.
This maker and taker model is different from what is defined in the finance and stock market world. The order orders made are added to the order book and orders taken are removed from the order book if they reach full limits/liquidity.
What is a Maker?
Makers are regarded as traders who provide liquidity to the market by creating orders at an off-set market price or at prices/quotes that are not already available in the orderbook. Makers in AtomicDEX don't pay any fees and can set a custom price for peculiar orders.
This means that a maker can make good profit while trading if they think an orderbook has a low liquidity for a particular swap or exchange between two assets. On the contrary this means holding your coins for a specific period of time until an order is matched.
What is a Taker?
Market takers are traders who remove liquidity from the market by filling an order and taking an asset off the orderbooks. When working with AtomicDEX takers pay a maximum of 0.15% fees. An arbitrary opinion and analysis might suggest that takers in the cryptocurrency world aren't usually looking for profits, instead they just swap their assets.
Takers can also make profit by only filling orders with the lowest liquidity or demand as usually these orders have a higher profit ratio and lesser chances or being filled. In these orders would usually have to pay less and get more.
What is liquidity?
Liquidity refers to the speed and capacities of an exchange when converting one cryptocurrency to another. Popular trading pairs tend to have a higher liquidity rate. This is mainly due to more orders being made and more takers rush to fill these orders.
In AtomicDEX liquidity is provided by traders and users only as it has an aim to make a transparent and decentralized exchange with no authoritarian involvement.
How to make an order on AtomicDEX
Creating an order on AtomicDEX is as easy as it's told. Let's go through the process of making an order (A pictorial representation).
Tap on DEX go to the menu named multi as shown in the image below.
Select the asset you want to exchange against the order asset. Autofill will update the prices 1:1 you can increase or decrease the price. Depends on the popularity and demand of the order, time is taken to fill, etc.
Select, confirm and wait for the order to be matched.
The price comparison API shows that the order is 0.0% expensive by comparing it to popular centralized exchanges.
If you set a custom or higher price, for example, $5 for an asset worth $3 the rate would be different prompting expensive.
Congratulations you have just made an order.
Introduction
AtomicDEX is one of the most innovative projects developed by the komodo team for blockchain interoperability. It is a multi-chain wallet and a decentralized exchange making it a groundbreaking innovation in the cryptocurrency world.
The name comprises "atomic" and "DEX" (Decentralized exchange). AtomicDEX is in beta version and is available on Android, iOS, and desktop platforms. AtomicDEX is one of the few DEX that is truly decentralized and cross-chain. It works not only on the ethereum chain but connects ethereum and bitcoin blockchain together,
Exigency?
In current times most of the DEX (Decentralized exchanges) is ethereum centric. This is mainly because of the wallets and storage options for ethereum and ERC-20 stakeholders.
Ethereum based wallets are designed trustless/client side and due to so many ethereum sub-projects it is always easy to exchange tokens. However, when trading bitcoins and other UTOX assets usually centralized exchanges come handy.
AtomicDEX has solved this basic problem by implementing the AtomicSwaps technology. It supports almost every asset including bitcoin and other UTOX assets as well as ETH and ERC-20 tokens. This exchange phenomenon is completely trustless, versatile, easy and cheaper.
Why AtomicDEX?
A wallet and a fully fledged functioning exchange. The cryptocurrency world is all about security and decentralized interchange of data. However, today the world's largest exchanges are centralized and dependent. AtomicDEX aims to solve these issues by providing.
Security (Non custodial, keys, phrases stored client side)
Speed (No deposit, withdrawals, kyc waiting periods)
Adoptability (Any asset to any other asset)
Lower fees (Market Makers (a person creating an order) don't pay any fee and for takers (a person filling an order or taking liquidity off the market) the fee is 0.15% or varies).
AtomicDEX is developed as client side software. The private keys are stored offline on a user's device. The DEX works in lite mode (You don't have to download block chain data in order to exchange your tokens).
AtomicDEX uses very little computing power and RAM. It is developed on C++ and use of memory control is made sure for faster usage experience.
The source code is available on github. You can test credibility by simply downloading an editor and start analyzing the code.
The price and trade offers comparison is unbiased. It compares offers with exchanges like binance within the application. This will allow you to choose better deals for you.
The Interface?
Let's walk through AtomicDEX Beta v-0.31 for desktop and work with the wallet and the exchange. The first screen after opening is the signup screen as displayed in the image below. A user can recover their wallet or create a new one.
Click create a new wallet and add a wallet name, copy your seed (Making a hardcopy is considered the best practice), create a password.
Continue and confirm your seed phrase and continue until you see a Login In screen with your wallet name created upon sign up.

You have successfully created your wallet. You can now log in and start using the wallet and DEX features. Your wallet keys/backup is stored on your device. ~/.atomic_qt / %HOMEPATH%/atomic_qt.
By default there are only 2 assets activated just click on the plus button to add more. This is how it will look like.
To add a custom asset to the list you have to add a contract address for the token. This is different from a wallet address you can read about contract addresses here.
Sending and receiving is conventional with options to add any address to an address book.
. With the latest release you can quickly switch from dark to light mode if you have issues with dark themes. You can now also claim rewards (cashbacks), depending on the amount of transactions done.
The DEX is an extensive and amazing feature of AtomicDEX. Swap any asset to a token or vice versa. All secure and hassle free.
The price data and exchange data are all unbiased and provide user transparency to a user so you can follow the best offers. Read more about the DEX feature and how to make atomic swaps here.
Verus wallet is the most comprehensive cryptocurrency wallet so far from features such as GPU and CPU mining from your desktop. Verus wallet has also integrated a fully-functional blockchain called VerusID for information interchange. It is an opensource and community-driven project developed by verus coin.
Verus (VRSC) will feature in the orderbook app which enables online communities to be engaged with atomic swapping content creators through the atomicDEX mobile app.
These IDs are able to sign messages and files, that anyone can verify (without ever needing an ID to verify). The wallet is really comprehensive with different settings for different use cases, which makes verus a #1 choice for a desktop wallet.
This is a multi part review because Verus has much technology to explore already in 2020:
Part 1 - The Wallet
Part 2 - Blockchain ID - VerusID (Q2 2020)
Part 3 - Create Your Own Blockchain In Verus Wallet (Q3 2020)
The Wallet
The wallet is developed and designed on a simple bi-colored theme. UX and UI are really intuitive in order to solve onboarding issues for newbies. You have to create a profile name (multiple profiles can be created). An account is referred to as a profile in verus.
Coins or tokens can be used on both Native or Lite mode. Native mode downloads block data and is generally used for mining which allows Verus to use your CPU or GPU threads to mine coins. However, the lite mode can be used for general storing and transaction capabilities.
Support
Help and Support are available via the official Verus Coin discord channel. There is an active community of developers, contributors, and enthusiasts. A complete FAQ and Wiki can found explaining in-depth about the ecosystem and algorithms.
The resources are open source on GitHub, where you can find code for all of the wallets and libraries developed by Verus. You can download the wallet from the Verus project's website. It is available for Win, OSX, Linux and both Android and iOS.
Create A Profile (aka Account)
Get Started
Add Coin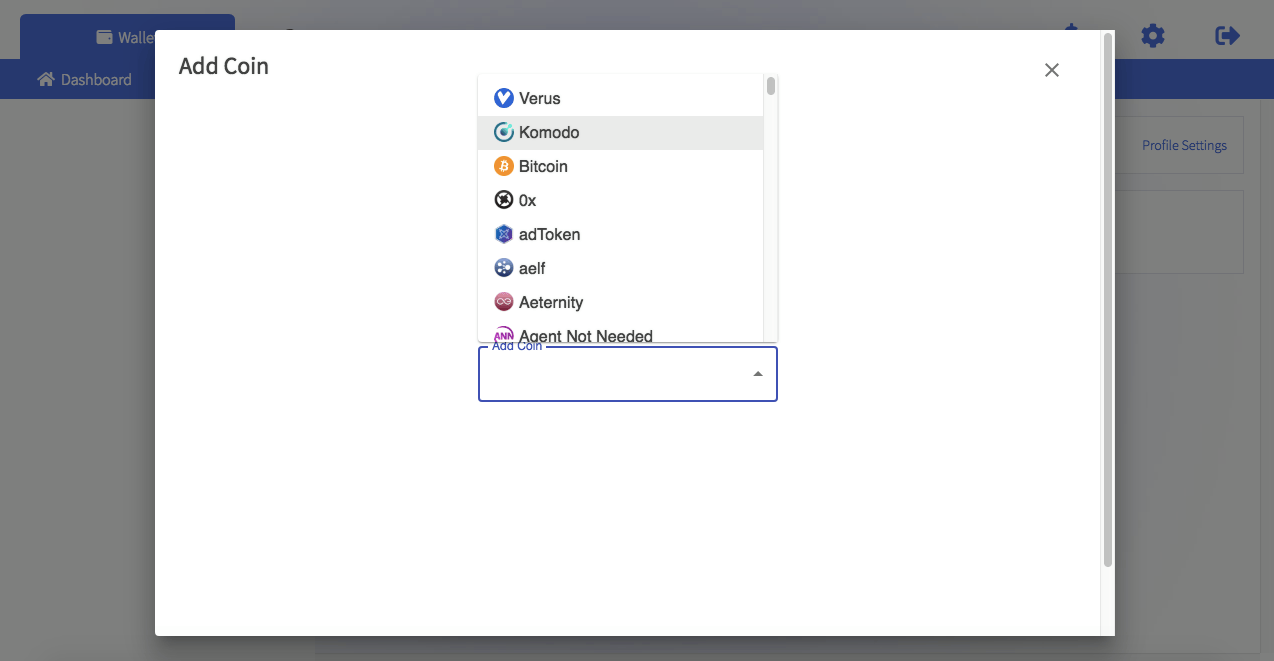 Select Mode (Native or Lite)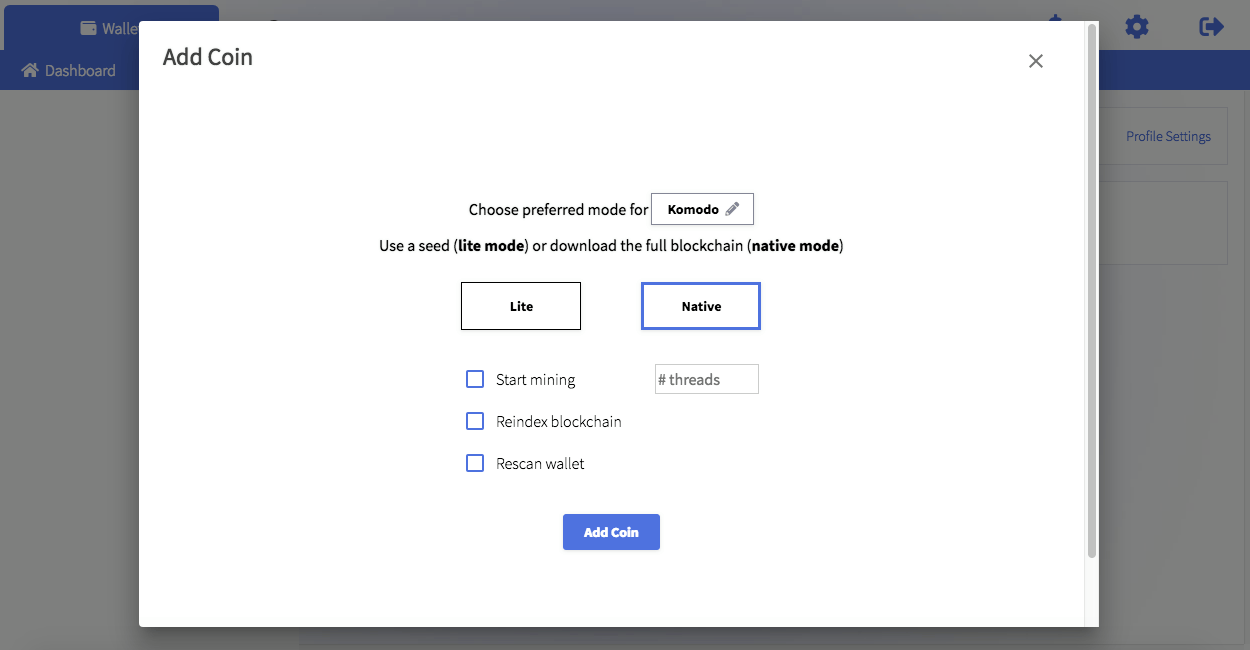 Generate Seed or Restore Wallet
Attach Seed to Profile (Or Use Once Off)
Encrypt With Password
Start Sending & Receiving Coins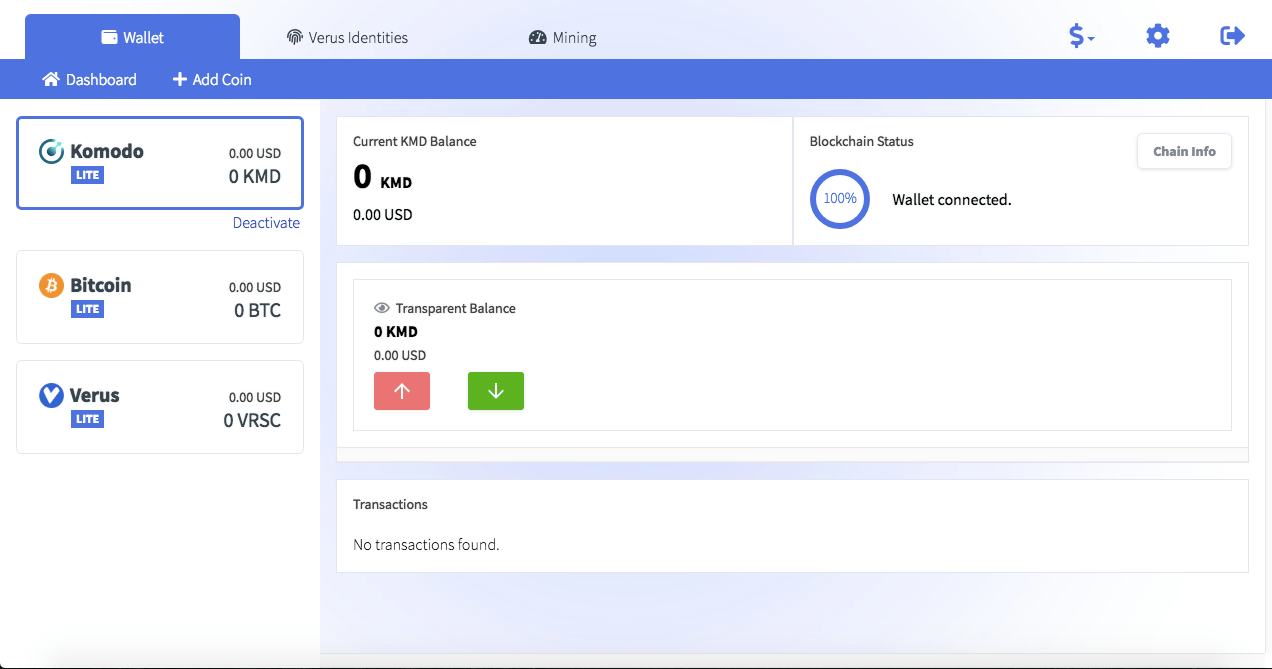 Configuration Settings
Verus has got the coin, profile and general settings, each of these settings are comprehensive and complex for better user experience. You can also change the display currency from any of the given Fiat values.
Profile Settings (Layout)
Run Command On Coins
Dev Mode Settings (Bleeding Edge Testing)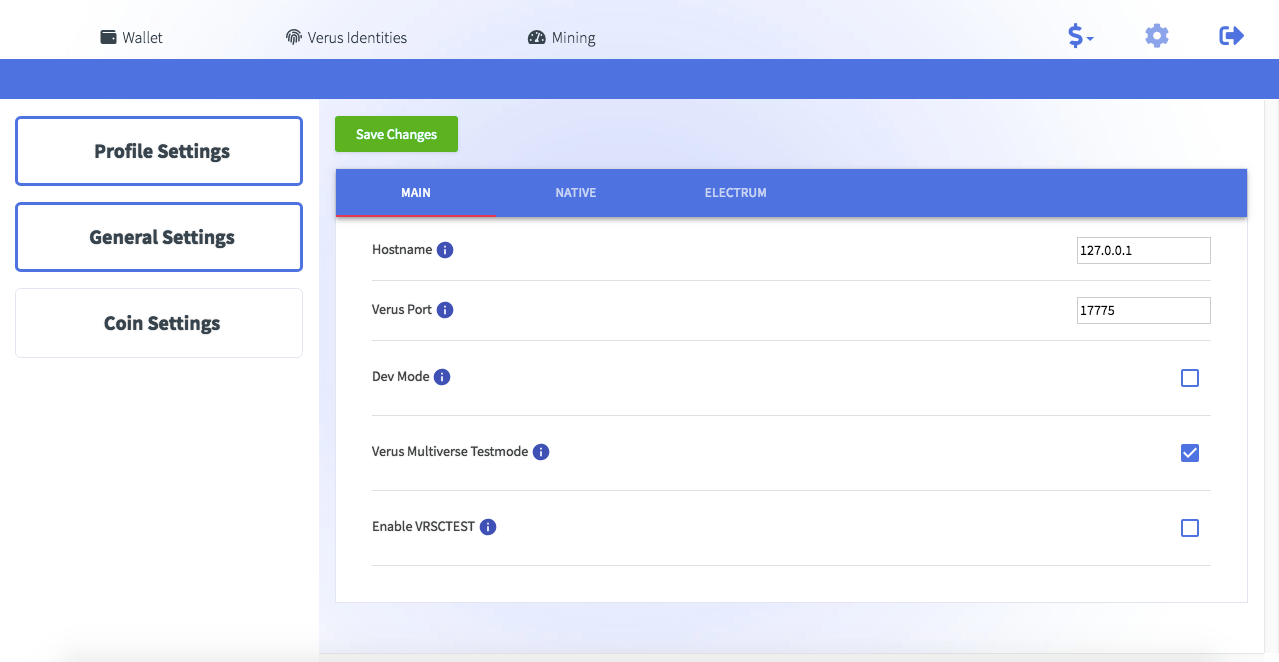 Native Mode Settings
Lite Mode (Electrum) Settings