If there was ever a protocol of blockchains that would be anything like Komodo or Verus, it is probably Avalanche at the current time. It is a multi-chain project consisting of a main X-Chain for transactions & creation of tokens as well as the management of the protocol. It is not a blockchain, but a DAG - a different data structure, similar to other behemoths in the crypto space, like Cardano, Nano & IOTA.
Then there is the C-Chain for smart contracts. It is a copy of the EVM allowing developers to move their projects from Ethereum.
P-Chain is the third chain in the AVAX network. It is the "platform chain" for enabling organizations to create "subnets". A subnet is a new blockchain that has it's own consensus mechanism, whether it's PoW or PoS. Subnets can also have their own VMs (as in EVM), to run their own set of smart contracts.
AVAX Subnets
AVAX subnets can be permissionless or permissioned. Sensitive organization data can therefore be shared on the permissioned chain, e.g. payroll or HR info, and the general public data on the permissionless subnets.
The information on this page was summarized from the video of AVAX by whiteboard crypto group.
Different blockchains have a different set of rules for developers willing to develop tokens or projects on their blockchain. If you want to make a token on a popular blockchain, you need to follow their standards. These standards are a set of rules. Below are some popular token standards.
ERC-20 (Standard Ethereum token, it is transferable and fungible).
ERC-721 (Popular standard these days, Non fungible token used in NFT trading)
BEP-2 (Binance chain token. pegged tokens of multiple chains even bitcoin)
BEP-20 (Binance Smart chain, runs parallel to Binance chain and uses EVM (Ethereum Virtual Machine), pegged tokens)
QRC-20 (Same as ERC-20 for QTUM chain)
TRC‌-20 (A technical standard used for smart contracts on the TRON blockchain)
Goguen (Upcoming Protocol to build cardano smart contracts on distributed ledger)
These are some of the most popular standards for tokens. These standards are API callbacks and predefine functions to follow when creating a token. If you comply with these standards your token or coin will be identified from that standard.
There are a lot of token standards in Ethereum alone, but above are some of the most popular and widely adopted standards.
When you have connected metamask with the binance smart chain, adding tokens can be a challenge. If you are new, you are most probably searching for the token name in metamask but this will not work, cause metamask doesn't recognize BEP-20 tokens yet.
Please read this article if you don't know how to synchronize MetaMask with BSC.
There is a simple solution to this.
Go to Binance Smart Chain.
Search for the token in the search bar.
Copy Contract Address.
Go to MetaMask.
Add Custom token, paste the address.
You are Done!!!
To determine the share of a liquidity provider in a pool, platforms generate a new token for the pair. This token is known as a liquidity pool token or LP token. They generate in accordance with the pair and share of the pool.
For example, if a trader contributes $40 worth of KMD and USDT to a Binance smart chain pool with a total value of $200. They will receive 20% of that pool's LP tokens. This means that they own 10% of the crypto liquidity pool. On most platforms, the name of LP tokens varies with the trading pairs.
In the example above the LP token for the trading pair is KMDTUSDT. The number of tokens varies on the price difference for a said pair. For example, 1 KMD and 3 USDT will make 1 KMDUSDT token. The same goes for every asset you provide in the liquidity pool.
Why Liquidity Pool Tokens?
The purpose of LP tokens is to ensure there is no custody of your funds in a liquidity pool. They are the key function of an automated market maker in a liquidity pool. To ensure that a pool is really automatic, decentralized, and fair, LP tokens come into play.
The non-custodial feature of AMM platforms is key to being part of the decentralized finance ecosystem. You remain in control of your assets by receiving LP tokens in return for providing liquidity to the pool. This ensures a fair play providing you with something of value for providing the pool something of value.
Benefits of LP tokens?
These LP tokens also ensure network security. This means they are highly lucrative and crucial for a liquidity provider or platform. The more the coins stay inside the same ecosystem, the more secure, stable, and scalable the network becomes. To achieve this DEFI has introduced users with more incentives such as yield farming,
The Liquidity pool tokens generated are ERC-20 standard. This means they are a token like Ethereum or Binance smart chain tokens. Traders can also trade LP tokens outside their platform of origin. This means stakeholders can use them for further operations.
Synthetix is a DEX and an asset issuance protocol. It is ideal for trading cryptocurrencies, commodities, and sFIATs (Synth FIATs). It can be considered an emerging alternative and competitor of the 0x relay.
It works on top of the ethereum blockchain and allows infinite liquidity limits with over 20 different synths available to trade with. The market cap of SNX coin is $181 million, with an average price of $0.8 at the time of writing.
How Does It Work?
There are two kinds of tokens in the Synthetix Network. SNX is the Synthetix network token and synthetic assets, known as Synths. For example, sBTC is a synth. SNX works as collateral for synths to provide liquidity to the market.
What Is A Synth?
Synth is a purpose-specific smart contract, it is used as a wrapper for DEX trades, just like the 0x relay. However, the SNX is a functional token but is standardized for liquidity and staking purposes.
This algorithm is so designed to wrap ETH, USDT, BTC, etc into its own smart contract which excludes counterparties. The main purpose is to interconnect the ethereum blockchain with other stable and major coins like BTC, LTC, etc.
The market cap of sETH, sUSDT, etc has different market caps and values for what original ETH and USDT have. The commodities are wrapped around synth contracts which make BTC into sBTC.
Synthetic Trading Products
Synthetix platform has 2 major products:
Synthetix Exchange (DEX)
Mintr
Synthetix Exchange (DEX)
To work with the exchange you need to unlock funds using MetaMask as a browser wallet. Synthetix only works with MetaMask as a browser wallet. Other options are Ledger and Trezor, both are hardware wallets.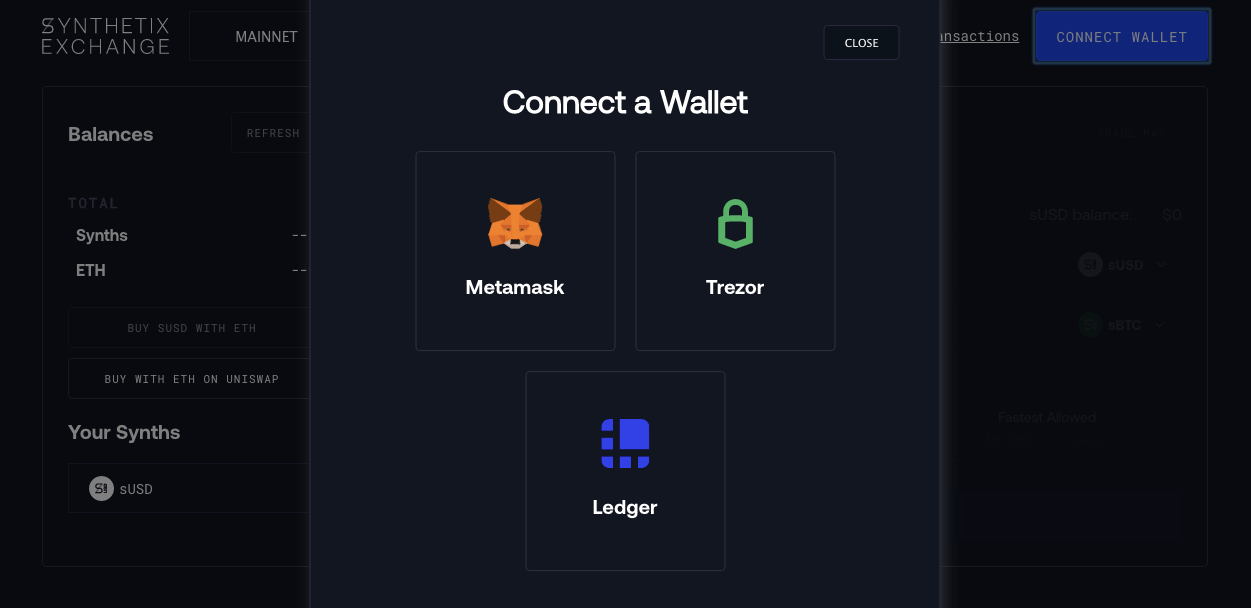 Once you have successfully connected your desired wallet, trading view charts will be active. TradingView API is the most trusted and accurate historical and real-time data-providing API in the market.
Trading is easy on synthetix, depending on your experience you can switch between basic mode and pro mode. TradingView works on pro mode.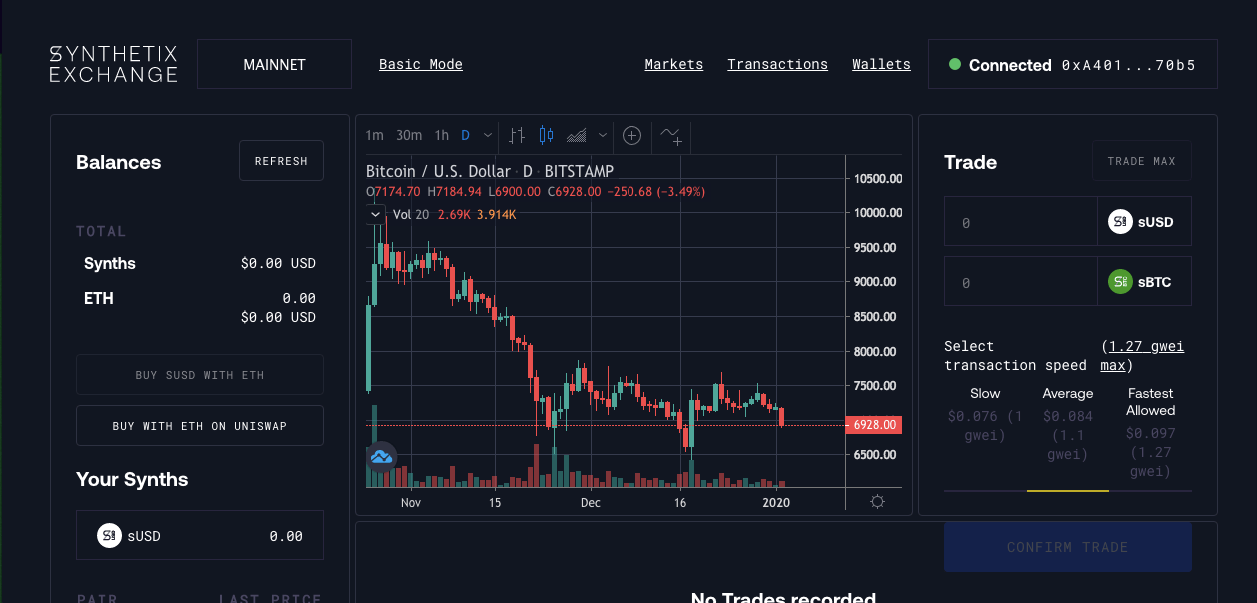 There are no limits and waiting periods when trading with Synthetix. The P2P trading algorithm executes trade faster and easier, without order books.
Mintr - Staking
Mintr is the trading dashboard for users staking SNX tokens. Users can mint synths against SNX, staking the system and providing liquidity to the DEX. All Synth trades on DEX generate fees that are distributed to SNX holders, rewarding them for staking the system.
How Does Mintr Work?
Collateralization is like securing a loan that users provide in form of their SNX tokens. They receive SNX staking rewards, which are created through the inflationary monetary policy defined by synthetix on their official white paper.
Secondly, there are Synth exchange rewards, which are generated by Synth trades on the DEX. To unlock the escrowed or staked SNX you can burn synths back into SNX tokens, allowing you to transfer your non-escrowed SNX.
The collateralization rate is standard for every stakeholder. It is considered optimal for small and large stakeholders to avoid rate fluctuations. " A high collateralization ratio helps synths get approved for trades because it reduces SNX lenders risk".
According to the official lite paper, this ratio can be maintained easily by minting SNX if the ratio is high, and burning SNX if the ratio gets lower than 750.
Synthetix Team & Support
The team consists of experienced engineers, blockchain and finance enthusiasts. The support, however, is available via an active and spreading community on discord.
This storefront creation guide was so simple - it was done on an iPad! The Opera Browser with Crypto Wallet ethereum integration worked perfectly. The setup was seamless to create a storefront on OpenSea, then to create a digital item & configure it for sale. With very little ethereum experience (& a small amount of ETH), I was able to successfully create a storefront & list an item for sale with a set price. The price is set in the USDC stablecoin, so no matter what the fluctuations of the price of ETH, when my digital item sells, it will sell for a fixed amount. I was also able to set a maximum referral fee of 2.5% for anyone that refers.
This guide does not go into embedding the storefront in your own application yet, but as you can see from this picture - the Pro Platformers storefront can be found in the OpenSea search box with relative ease alongside legends in the asset tokenization market like CryptoKitties, Gods Unchained & Decentraland.
How Much Does It Cost To Setup A Storefront
Gas fees.  See below in the next section the transaction details.
For this walkthrough, gas cost me $3.75 for the storefront & an additional $0.81 to create my first collectible which authorizes OpenSea to trade USDC so I get a fixed amount on sale.
What You Will Need to Setup a Storefront
To have a wonderful experience creating a storefront you will need these:
A browser with crypto wallet integration.  I used Opera Touch from my iPad, but several other wallet brands are supported. Our intro to OpenSea uses MetaMask.
Sign (no fee) the terms of service digitally, using PIN/password/fingerprint for your wallet to sign the transaction.
An (optional) email address if you want to be notified when your item sells.
The wallet with some ETH.  For this guide I spent:
Sign (no fee) to authorize OpenSea to list the item for sale.
Start at the OpenSea Storefront Manager
The OpenSea project provides a very easy way to navigate the creation of a storefront on OpenSea.  Simply visit the OpenSea Storefront Manager and you are greeted with this in the browser.
If No Crypto Wallet Found
Without any browser integrated crypto wallet, a helpful screen will display showing some supported wallets. I used Opera Touch from an iPad which comes with a Crypto Wallet built in, so there were no hassles with browser extensions etc.
Create a New Storefront
Click Create on the create a new storefront card & digitally sign the no-fee transaction to accept the OpenSea terms of service.
Fill in the store details & make the payment to cover network fees.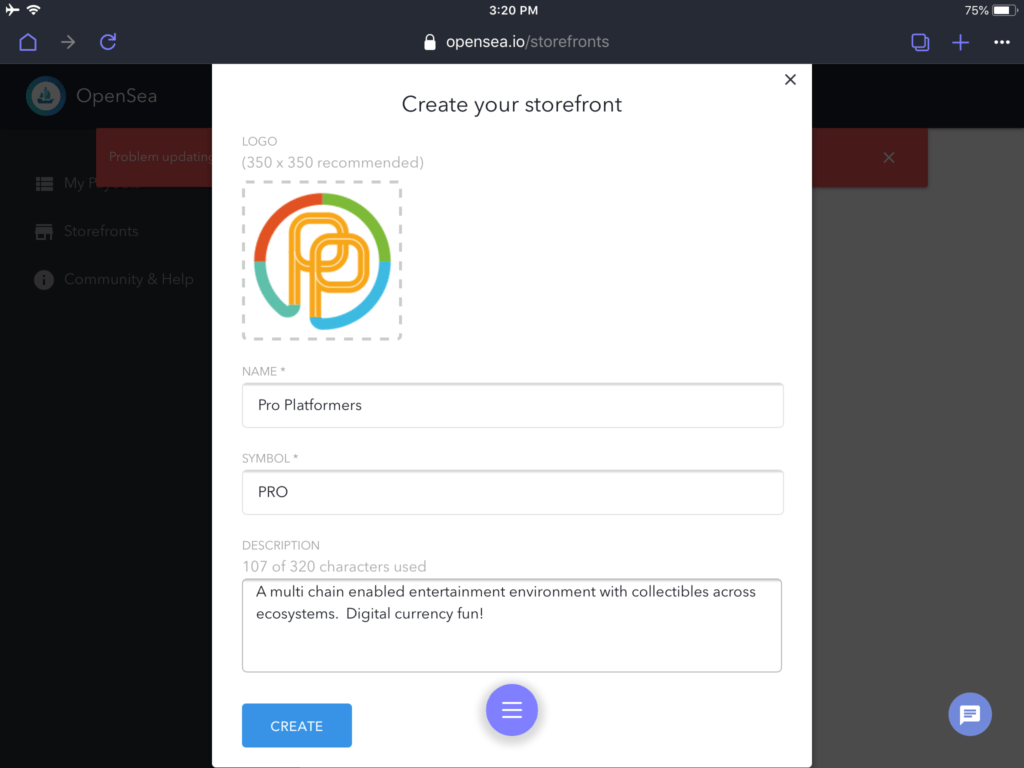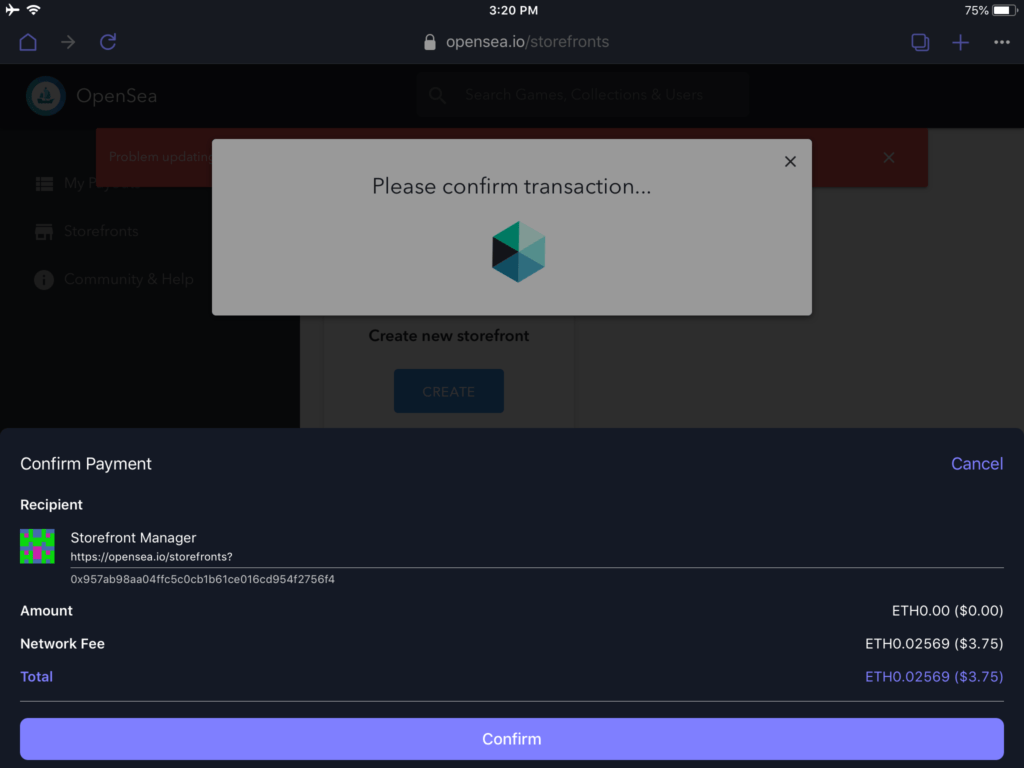 Wait for the transaction to be confirmed by the network and then the new storefront is created!
Create Storefront Summary
Until this point, we have created our token contract. This is the storefront - but it is empty, there are no items to sell. The token contract is empty. Adding tokens to this token contract is the following step. If you wanted to create another storefront, just repeat the above. It must be noted that creating the storefront (the token contract) is the most expensive part of the process.
Add Item To Storefront
Now it's time to add an item to your newly created storefront. Click into it and depending on your device width, you will see a screen with your storefront name, an edit option and a button to "Add Item".  Click the Add Item button and fill in the item details form.
Hint: It will be easier if you are prepared with your asset descriptions and any images you may want to upload.
For this item, I'm uploading a copy of some song lyrics with the purchaser receiving the right to be acknowledged in my next song about "Navigating The OpenSea" - a tongue-in-cheek play on words about sailing the world of digital items!
After filling in the item details, the storefront manager requires payment authentication to create this item (e.g a unique NFT digital item) to the storefront (the token contract).
After confirming the payment, the transaction needs to be confirmed by the network. This will take about 10-20 seconds and a notification should be received by your wallet integration. The following screenshot shows the Opera Wallet giving me a notification of a token created.
The view will then refresh automatically and show the new item.
The item is in the storefront, but it is not for sale yet. Consider it inventory in the shop, but not listed for sale yet.  Let's change that in the next step.
List Item For Sale
If you click the "Done" button from the previous screen or click on the breadcrumb to go back to your storefront, you will see the item in your storefront. Click into it to get to the details of the item.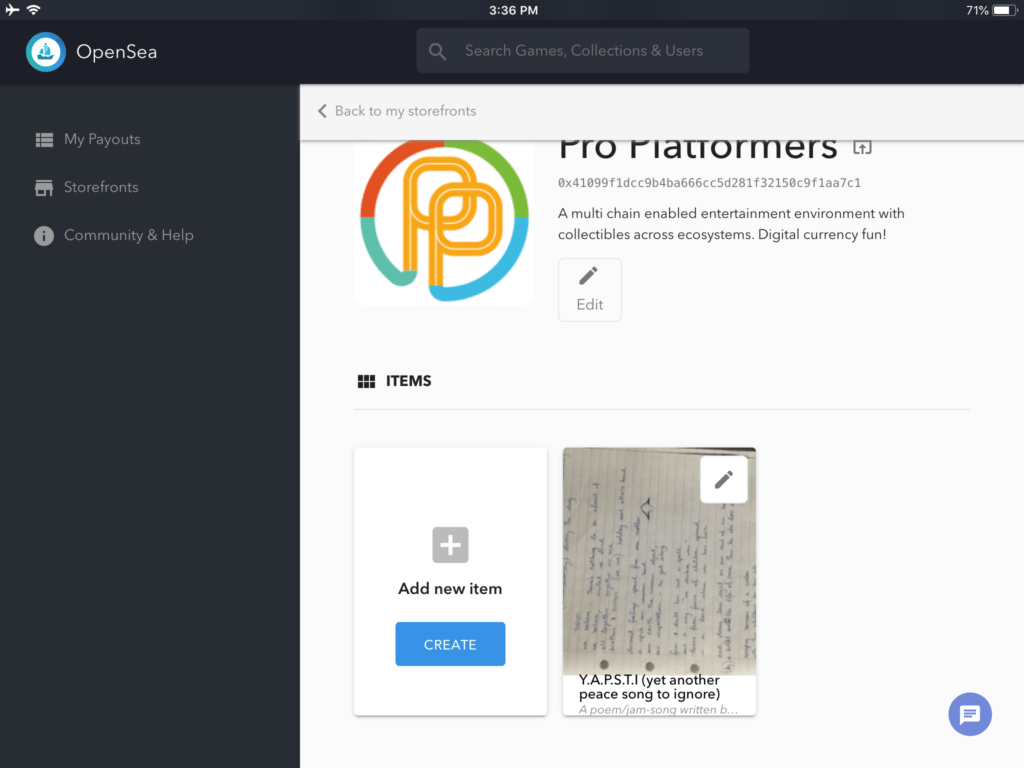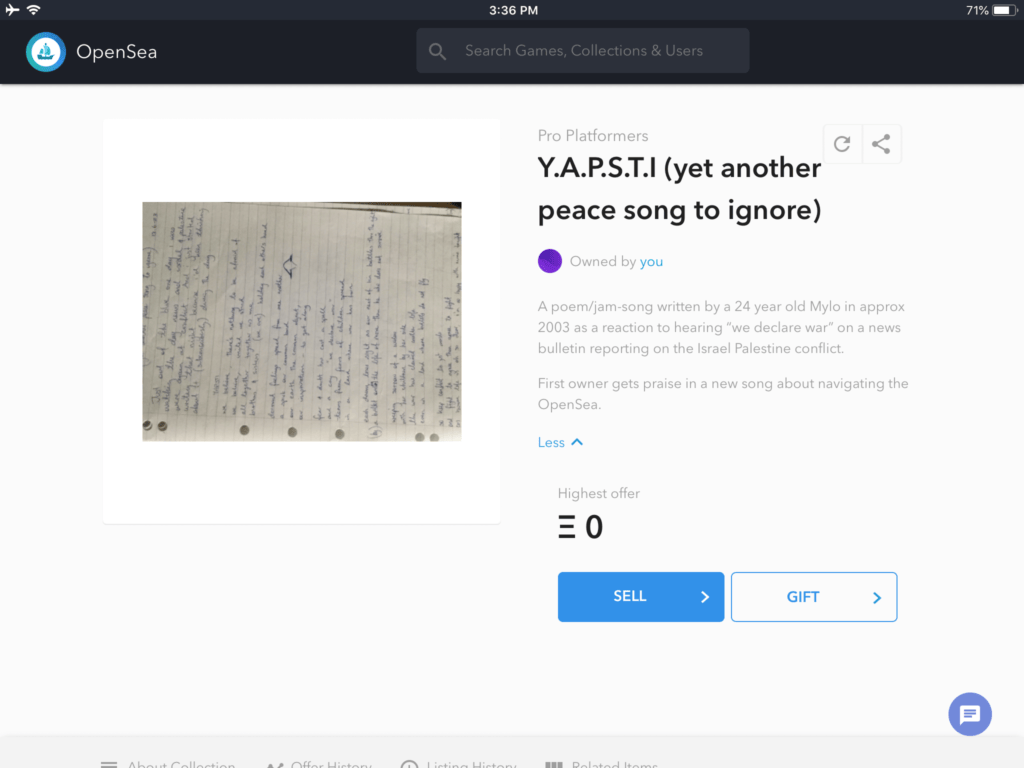 Now you know what you need to do?
Yes, sell it!
The details of how you want to sell it can be configured with:
The sale method: Set Price or Auction or Bundle Item
How much to sell it for
What currency you'd like to receive
The commission rate (referral bounty) for any referrers that sell your item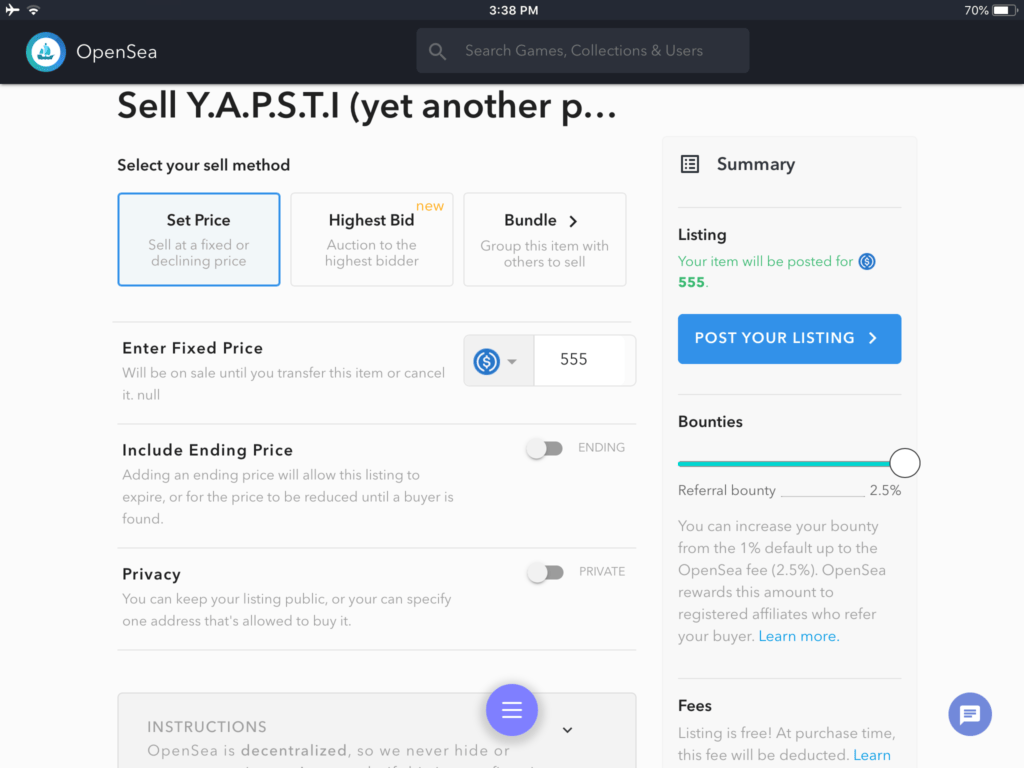 The fees is not an option to configure. Although listing the item is free, OpenSea will take a 2.5% commission for the sale.
Click on the "Post Your Listing" button and OpenSea will request for your signature authorizing them to list your item for sale.
Once this is processed, your item is officially for sale!
First Time Sellers Additional Authorizations
On the first item for sale, OpenSea will ask for authorization to sell items in your account. This requires a zero payment action, however the gas fees of Ethereum still apply.
Stablecoin Authorization
For my first item, I chose to sell with the USDC stablecoin as the currency. Because I was testing the Opera Crypto Wallet at the same time, and because of my lack of familiarity of the Ethereum transaction workflow as well as the requirement to authorize the use of a stablecoin, I was left a little overwhelmed with the requirements to confirm all of these transactions. I was lost for a few moments, but had faith that the system was working as intended.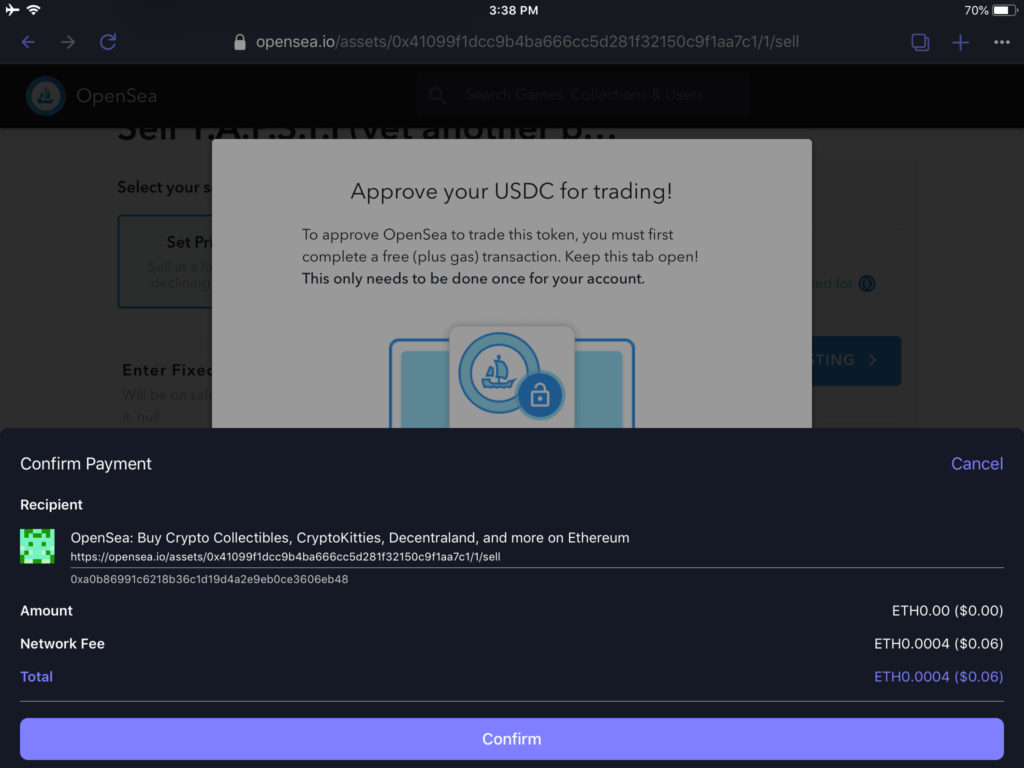 Item For Sale Summary
We made it! We have successfully listed our digital item for sale in our new storefront! Clicking into the item, we can see it's history from it's birth to it being listed for sale. In this case it is for $555 in USDC stablecoin.
Where To From Here
This only the beginning of the collectibles marketplace journey. The simplest next step would be to use storefront editor to make it look nice.  Take the Crypto Assault storefront as a clean example.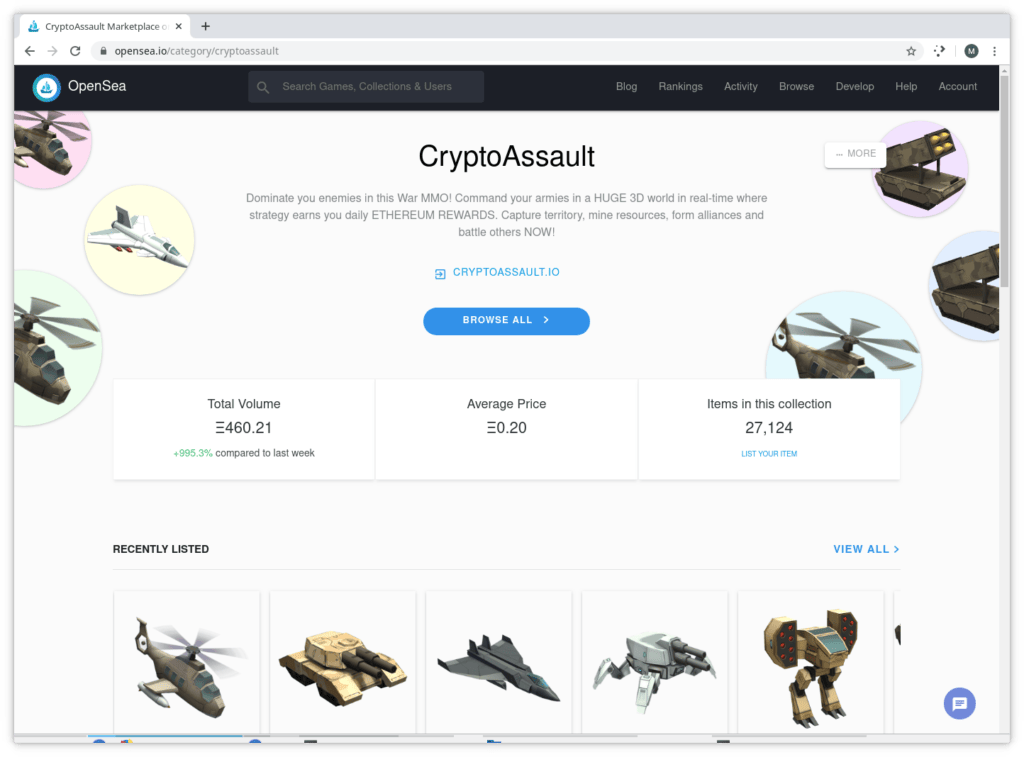 Other options include embedding the storefront into a website, or into a mobile application.