@everyone Last night, SafeTrade opened both USDT and DAI stable coin trading pairs for VRSC, making it even easier to go from USD to Verus and back. In fact, it is now possible to use Verus Mobile to wire from your bank account to your wallet, and with SafeTrade alone, go from there to Verus, no other exchange or even BTC is needed. Since these pairs were just opened last night and announced today with no artificial liquidity, there is a tiny bit of ask volume and no-bid volume to speak of yet. Hopefully, our community can help with that and also spread the word. If you're looking to purchase VRSC, please consider spreading your orders between BTC and stable coins to get better overall results and help provide market liquidity at the same time. Thank you!
https://discord.com/channels/444621794964537354/449633429198340106/921124298012389457
Today we are using the Kyber Swap website to exchange some ETH to BAT using the built in crypto wallet of the Opera Touch browser on iPad. The Opera browser provides seamless integration between tokens and the browsing experience. Using crypto is easier than sending an email, and swapping between tokens using the Kyber Network liquidity is nearly instant.
The only recommendation we can make is to reduce the gas fee so it costs less to exchange.
What is Kyber Swap
Kyber Swap is part of the Kyber Network suite of integrations enabled by their unique approach to providing liquidity to traders. The short explanation of what Kyber provides is application developers have a choice of what kind of liquidity pool they can integrate with to give their users the best user experience for trading tokens.
Kyber Swap is an instant exchange using smart contracts to facilitate quick trades on the Ethereum network.
Now, let's walk through BAT/ETH trade on our iPad using Opera Touch.
Select Tokens To Trade
After allowing the browser's built in crypto wallet to be used on the exchange, its as simple as selecting the tokens to use for trade, pressing the swap now button & confirming to proceed with the order.
Confirm Sending From Wallet
Opera Touch then asks you to confirm sending by prompting you with an attractive slide up notification. The iPad security model then prompts for your passcode to send the funds.
Opera Touch integrated crypto wallet uses Apples security model too.
Wait For Transaction Confirmation
The transaction is then broadcast to the network by the Kyber Swap exchange. All transactions are settled on the blockchain via smart contracts. When the transaction has been mined into a block, the result is displayed on the screen.
Viewing Tokens In Wallet
From the result display, Kyber Swap enables you to make another instant swap or transfer tokens to another address with the built in wallet integration of Opera Touch. For now, we just close the results status display and proceed to the crypto wallet to view the tokens Kyber Swap let us exchange.
In today's article we will review about:
How to get price indexing, currency conversion API and how to implement it on your website.
We will also discuss about transaction price calculator.
So you want to implement or get to know about price indexing and API's as in the previous article we discussed how does CEX and DEX get their price and charting data and how some exchanges tamper data for illegal profits.
Bitcoin Average is one the popular API providers in the market that provide Crypto API's for Finances, Forex for historic and real time data, there are a lot of API's provided by Bitcoin average some are:
Global Price Index (GBX)
Currency Market Index (which also includes FIAT currency rates)
Coin exchange data which comes from different exchanges around the world using Bitcoin Average API to calculate trading and exchange volumes of popular coins.
Most of the professional API's are paid on Bitcoin Average but we will go through freemium one's and give you a push on how to use them,
How to Start:
First of all sign up to Bitcoin Average with email and password which is pretty basic after confirming the sign up process, you will be navigated to a dashboard
For beginners it is suggested that you should use Widgets under the tools menu on the left navigation bar of the screen the screen will pop up like this and it will allow you to select your currency conversion widget,
To add this API to your website enter the domain generate App ID and then copy either the JavaScript code or the IFRAME which is an html tag to display an in line or in page section from another source you can add as much as currencies you want to convert into and show the current market rates.
There is another great feature in Bitcoin Average which is transaction price calculator this API allows you to find the price of a coin at the time of the transaction by entering your hash address,
There are some more great tools to access on Bitcoin Average but unfortunately most of them are paid and those which are available free only work limited, but these are some great tools if you are looking forward to blog, start a trading company or study in cryptocurrencies.
Today we will review 0x protocol. it is a protocol and tool for building DEX platforms on top of the Ethereum blockchain allowing peer-to-peer exchange. 0x allows the exchange of assets, crypto-currencies, and much more, 0x is not a decentralized exchange but a protocol followed by DEX.
It has got multiple DEX which is called relays under the 0x platform, these DEX allows trading from ETH to other crypto-currencies and assets, the token used by 0x is ZRX and it believes everything in the future is a token.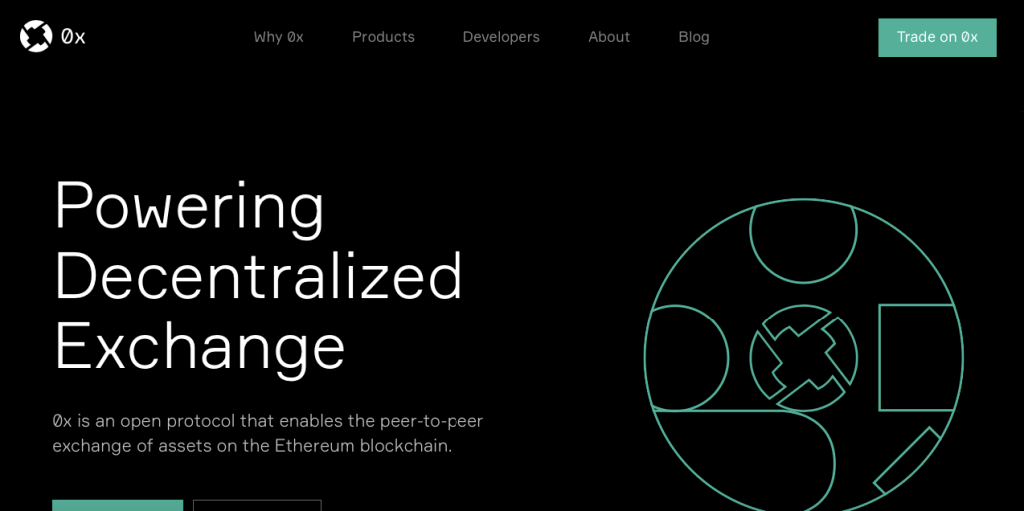 0x is really advanced trading protocol and its most relays are really hard to understand and trade on but there are few steps before trading on 0x, which includes setting up wallet, wrapping ETH, unlocking XRX etc, upon the trade page we can view the screen like this.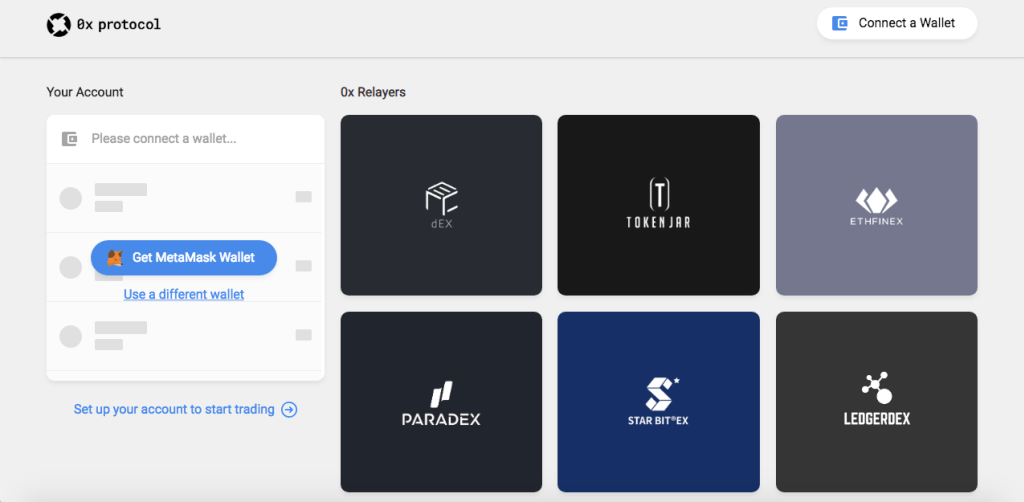 Install MetaMask from the chrome web store and make sure you have some tokens in your Metamask wallet. Once you have MetaMask installed refresh the page and a confirmation page might appear.
ERC20 tokens built on the ETH blockchain can be added as well, to trade on 0x. You might need to wrap your ETH into WETH which means wrapped ethereum, this token is used for trading on relayers, just simply click on the wrap ETH enter the amount and wrap ETH, it usually approves in seconds, and the same process can be followed to unwrap ETH.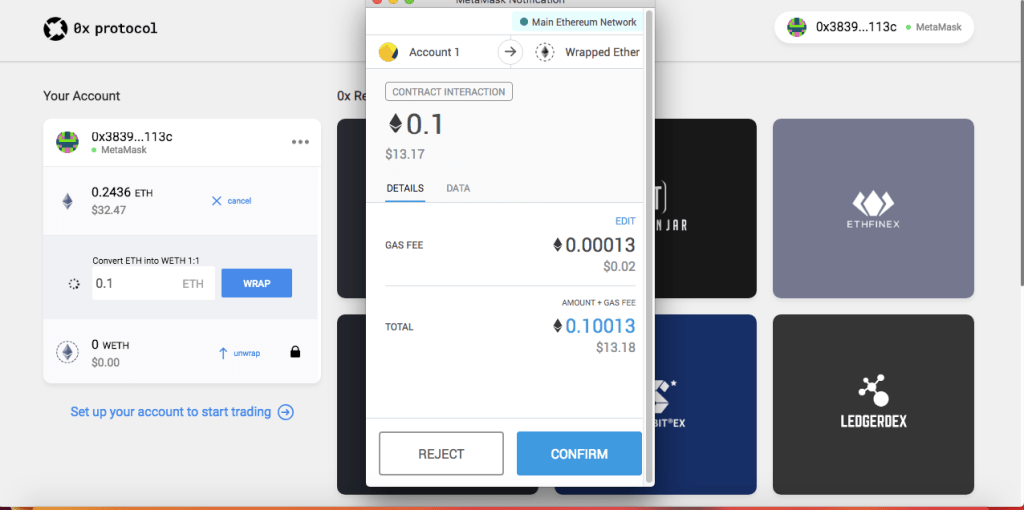 Unlock the ZXR and you are good to trade on 0x, now what relay should you choose to trade? the answer is you can use any relay they all are DEX and built on the same blockchain but these relays are really advanced and might not be suitable for you if you are new into trading, the first three relays might not be suitable as ERCDEX is under development, TOKENJAR and ETHFINEX, might not have a suitable UI for new comers.
ETHFINEX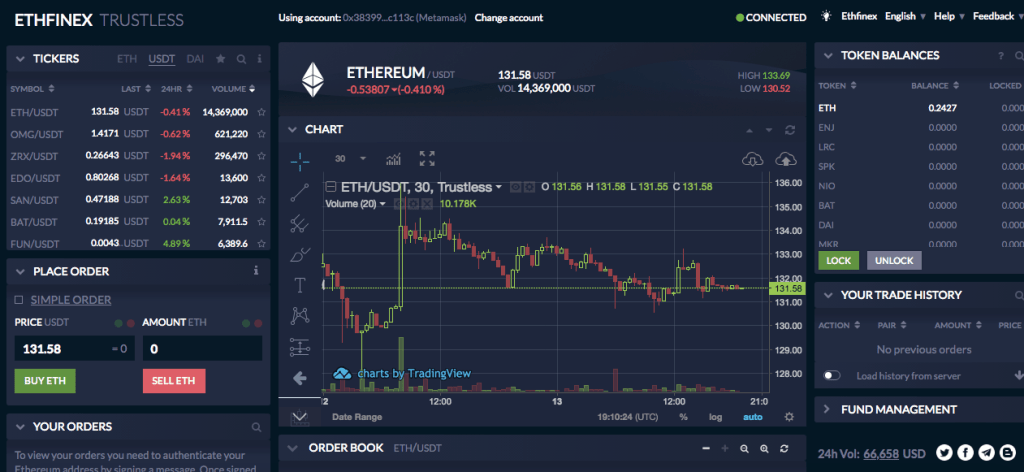 TokenJar
StarBit DEX
ParaDEX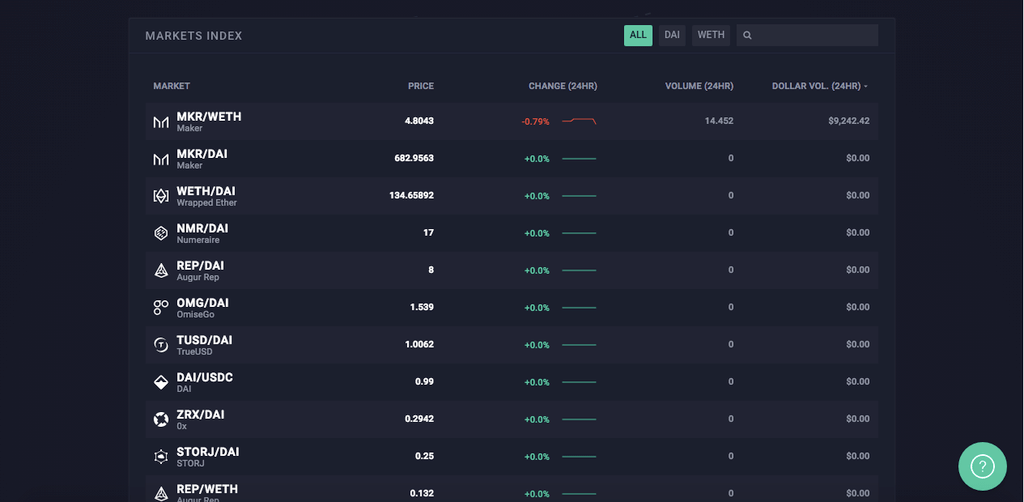 Building On 0x Relay Technology
0x also allows you to built your own relay/exchange following the protocol and get added in it's relays, which are built on the 0x platform by different group of developers or companies, 0x is built on javascript & typescript, which are really popular programming language nowadays, allowing developers to build apps, micro services, web applications, amazon web services and even 0x and ETH have some involvement of JS in it, if you are a developer the documentation on 0x really helps you to build your own relay and how you can add unlimited seamless exchange of assets and coins, network liquidity, making and taking orders, this is indeed a good option for developers check it out.
There is not much security associated to talk about on 0x as different relays have different kind of security and privacy options but all of the relays associated with 0x are decentralized and have good liquidity for making exchanges.