@everyone Announcing the immediate availability of GUI and CLI for all platforms of the NON-MANDATORY, RECOMMENDED v0.8.0 UPDATE.
This release is mandatory for those who want to use the testnet, which will be reset as of v0.8.0.
Updates include:
1. Testnet reset with fixes for all reported PBaaS, DeFi, and advanced VerusID user issues. If you had reported issues, please verify that the issues you reported are addressed in this release.

Support for the bidirectional Ethereum gateway/bridge, which has been testing on private networks and which we hope to launch on public testnet in the next day or two after confirming it on the release testing network with community testing contributors.

. Support for the new getvdxfid RPC call, used along with your ID and published names to generate VDXF (Verus Data eXchange Format) keys, which community members used to create the world's first self-sovereign, completely decentralized, rent-free, non-cancelable social media profiles, such as this one: https://luckpool.net/profile/identity/mike. Work is underway to document the VDXF keys defined and used for profiles as well as the process of setting up your own. While the capability is already extremely powerful, we should remind everyone that Verus is a platform, not a social network. The core technology is exciting, but what will be even more exciting is when businesses and entrepreneurs leverage it to enable new, self-sovereign user experiences, applications, and new business models to build the future, truly decentralized web

Fix for the Electron certificate issue in the GUI wallet, which has been affecting prices and preventing BTC fee calculation.

Support for some additional, popular ERC20 currencies, in anticipation of more usage after release of the ETH bridge.

Fix in GUI for calculated balances of specific addresses sometimes showing lower than actual, even though wallet balance displayed correctly.

Additional hardening, fixes and improvement focused on mainnet and the Ethereum bridge.
To reset your testnet make sure Verus is closed (and no testnet daemon running) and delete the following directories, then restart the testnet daemon (or relaunch Verus Desktop, deactivate verustest and re-add verustest native): Linux: ~/.Komodo/vrsctest, ~/.verustest Mac OS: ~/Library/Application Support/Komodo/VRSC, ~/Library/Application\ Support/VerusTest Windows 10: %AppData%\Roaming\Komodo\VRSC\, %AppData%\Roaming\VerusTest or %AppData%\Komodo\VRSC\, %AppData%\Roaming\VerusTest
CLI: https://github.com/VerusCoin/VerusCoin/releases/tag/v0.8.0
GUI: https://github.com/VerusCoin/Verus-Desktop/releases/tag/v0.8.0
https://discord.com/channels/444621794964537354/449633429198340106/897160723493421066
Decentralized Bridges to Connect Cryptocurrencies
Bridges in the verus ecosystem are a feature of Public Blockchain as a service. These bridges will allow other cryptocurrencies to flow in the verus ecosystem. Bridges will allow blockchain interoperability for the verus ecosystem.
Users will be able to freely trade coins from other ecosystems due to bridges. This includes sending, receiving, and storing coins and use of verus ID. These bridges will connect other cryptocurrencies in the form of tokens.
Bridges will be a key part of the verus DEFI system. They will ensure seamless transaction back and forth between blockchains. The liquidity provides will get transaction fee making sure verus remains a network economy.
Useful?
Different blockchains would have different bridges. This will ensure network reliability and security. The Ethereum bridge will be the first to get launched. Developers who are looking to develop their own bridges are welcome.
The verus DEFI system will provide liquidity in a form of an AMM with a reserve and fractional currency. Bridges will free users from the unreasonable gas fees on the Ethereum and native networks.
The tokens created on the verus ecosystem will be available on the Ethereum network. These tokens will be of ERC-20 type and will be available on the Ethereum network. This will provide incentives plus a chance to users looking forward to developing Ethereum tokens.
Today we are using the Kyber Swap website to exchange some ETH to BAT using the built in crypto wallet of the Opera Touch browser on iPad. The Opera browser provides seamless integration between tokens and the browsing experience. Using crypto is easier than sending an email, and swapping between tokens using the Kyber Network liquidity is nearly instant.
The only recommendation we can make is to reduce the gas fee so it costs less to exchange.
What is Kyber Swap
Kyber Swap is part of the Kyber Network suite of integrations enabled by their unique approach to providing liquidity to traders. The short explanation of what Kyber provides is application developers have a choice of what kind of liquidity pool they can integrate with to give their users the best user experience for trading tokens.
Kyber Swap is an instant exchange using smart contracts to facilitate quick trades on the Ethereum network.
Now, let's walk through BAT/ETH trade on our iPad using Opera Touch.
Select Tokens To Trade
After allowing the browser's built in crypto wallet to be used on the exchange, its as simple as selecting the tokens to use for trade, pressing the swap now button & confirming to proceed with the order.
Confirm Sending From Wallet
Opera Touch then asks you to confirm sending by prompting you with an attractive slide up notification. The iPad security model then prompts for your passcode to send the funds.
Opera Touch integrated crypto wallet uses Apples security model too.
Wait For Transaction Confirmation
The transaction is then broadcast to the network by the Kyber Swap exchange. All transactions are settled on the blockchain via smart contracts. When the transaction has been mined into a block, the result is displayed on the screen.
Viewing Tokens In Wallet
From the result display, Kyber Swap enables you to make another instant swap or transfer tokens to another address with the built in wallet integration of Opera Touch. For now, we just close the results status display and proceed to the crypto wallet to view the tokens Kyber Swap let us exchange.
This storefront creation guide was so simple - it was done on an iPad! The Opera Browser with Crypto Wallet ethereum integration worked perfectly. The setup was seamless to create a storefront on OpenSea, then to create a digital item & configure it for sale. With very little ethereum experience (& a small amount of ETH), I was able to successfully create a storefront & list an item for sale with a set price. The price is set in the USDC stablecoin, so no matter what the fluctuations of the price of ETH, when my digital item sells, it will sell for a fixed amount. I was also able to set a maximum referral fee of 2.5% for anyone that refers.
This guide does not go into embedding the storefront in your own application yet, but as you can see from this picture - the Pro Platformers storefront can be found in the OpenSea search box with relative ease alongside legends in the asset tokenization market like CryptoKitties, Gods Unchained & Decentraland.
How Much Does It Cost To Setup A Storefront
Gas fees.  See below in the next section the transaction details.
For this walkthrough, gas cost me $3.75 for the storefront & an additional $0.81 to create my first collectible which authorizes OpenSea to trade USDC so I get a fixed amount on sale.
What You Will Need to Setup a Storefront
To have a wonderful experience creating a storefront you will need these:
A browser with crypto wallet integration.  I used Opera Touch from my iPad, but several other wallet brands are supported. Our intro to OpenSea uses MetaMask.
Sign (no fee) the terms of service digitally, using PIN/password/fingerprint for your wallet to sign the transaction.
An (optional) email address if you want to be notified when your item sells.
The wallet with some ETH.  For this guide I spent:
Sign (no fee) to authorize OpenSea to list the item for sale.
Start at the OpenSea Storefront Manager
The OpenSea project provides a very easy way to navigate the creation of a storefront on OpenSea.  Simply visit the OpenSea Storefront Manager and you are greeted with this in the browser.
If No Crypto Wallet Found
Without any browser integrated crypto wallet, a helpful screen will display showing some supported wallets. I used Opera Touch from an iPad which comes with a Crypto Wallet built in, so there were no hassles with browser extensions etc.
Create a New Storefront
Click Create on the create a new storefront card & digitally sign the no-fee transaction to accept the OpenSea terms of service.
Fill in the store details & make the payment to cover network fees.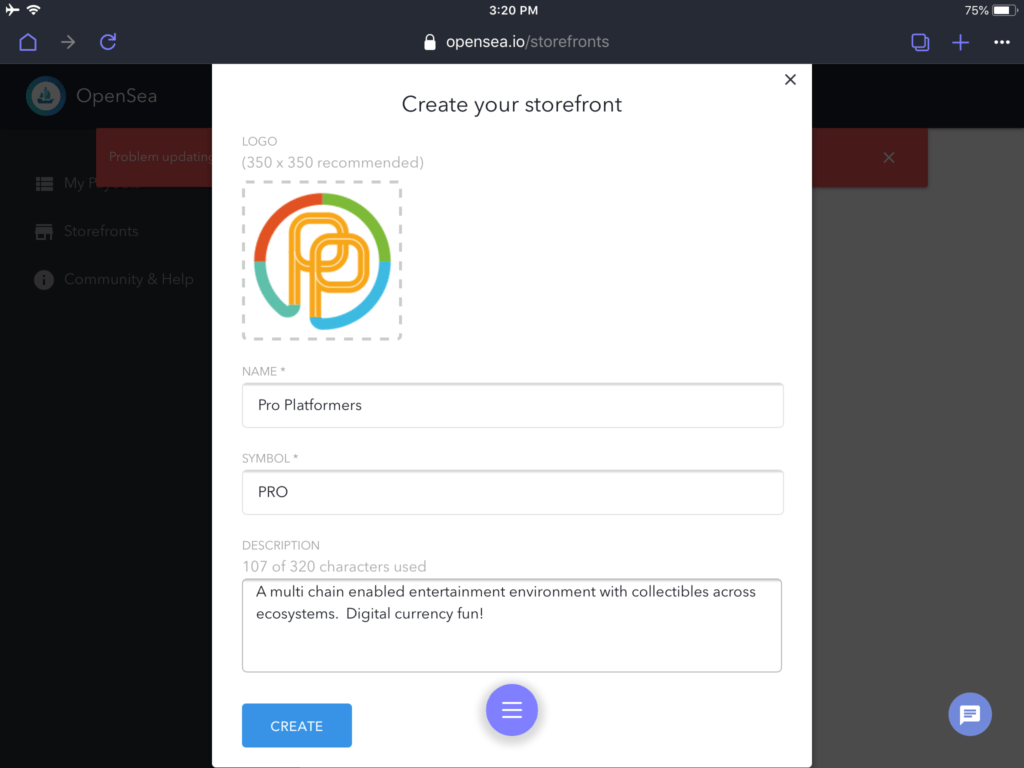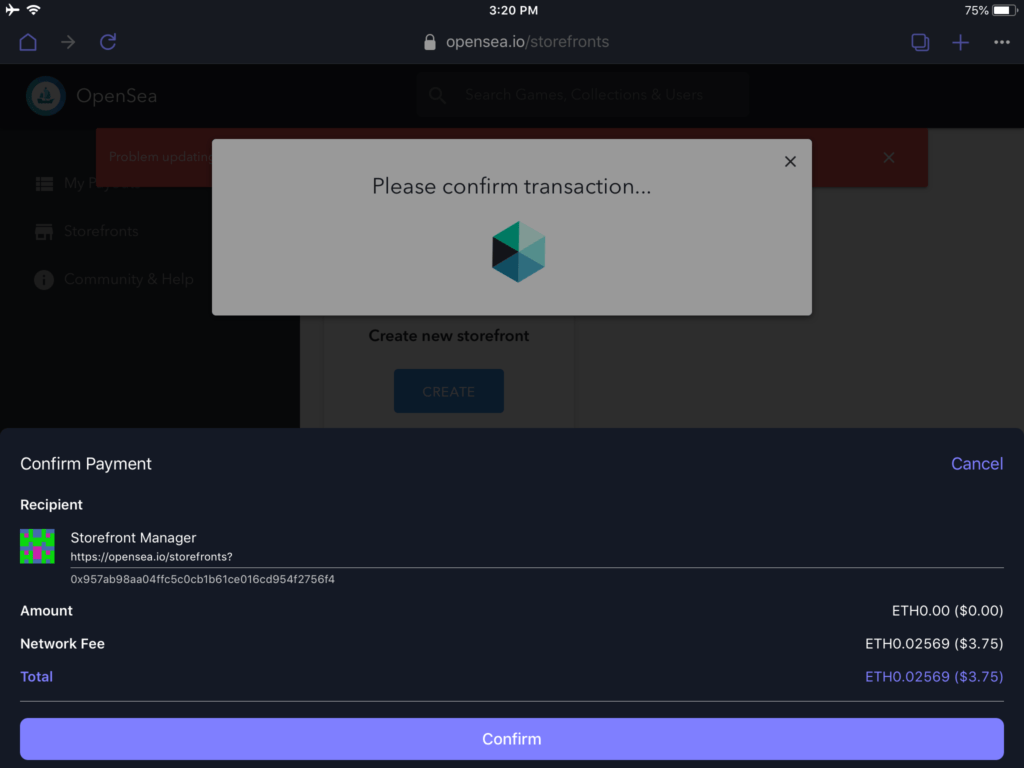 Wait for the transaction to be confirmed by the network and then the new storefront is created!
Create Storefront Summary
Until this point, we have created our token contract. This is the storefront - but it is empty, there are no items to sell. The token contract is empty. Adding tokens to this token contract is the following step. If you wanted to create another storefront, just repeat the above. It must be noted that creating the storefront (the token contract) is the most expensive part of the process.
Add Item To Storefront
Now it's time to add an item to your newly created storefront. Click into it and depending on your device width, you will see a screen with your storefront name, an edit option and a button to "Add Item".  Click the Add Item button and fill in the item details form.
Hint: It will be easier if you are prepared with your asset descriptions and any images you may want to upload.
For this item, I'm uploading a copy of some song lyrics with the purchaser receiving the right to be acknowledged in my next song about "Navigating The OpenSea" - a tongue-in-cheek play on words about sailing the world of digital items!
After filling in the item details, the storefront manager requires payment authentication to create this item (e.g a unique NFT digital item) to the storefront (the token contract).
After confirming the payment, the transaction needs to be confirmed by the network. This will take about 10-20 seconds and a notification should be received by your wallet integration. The following screenshot shows the Opera Wallet giving me a notification of a token created.
The view will then refresh automatically and show the new item.
The item is in the storefront, but it is not for sale yet. Consider it inventory in the shop, but not listed for sale yet.  Let's change that in the next step.
List Item For Sale
If you click the "Done" button from the previous screen or click on the breadcrumb to go back to your storefront, you will see the item in your storefront. Click into it to get to the details of the item.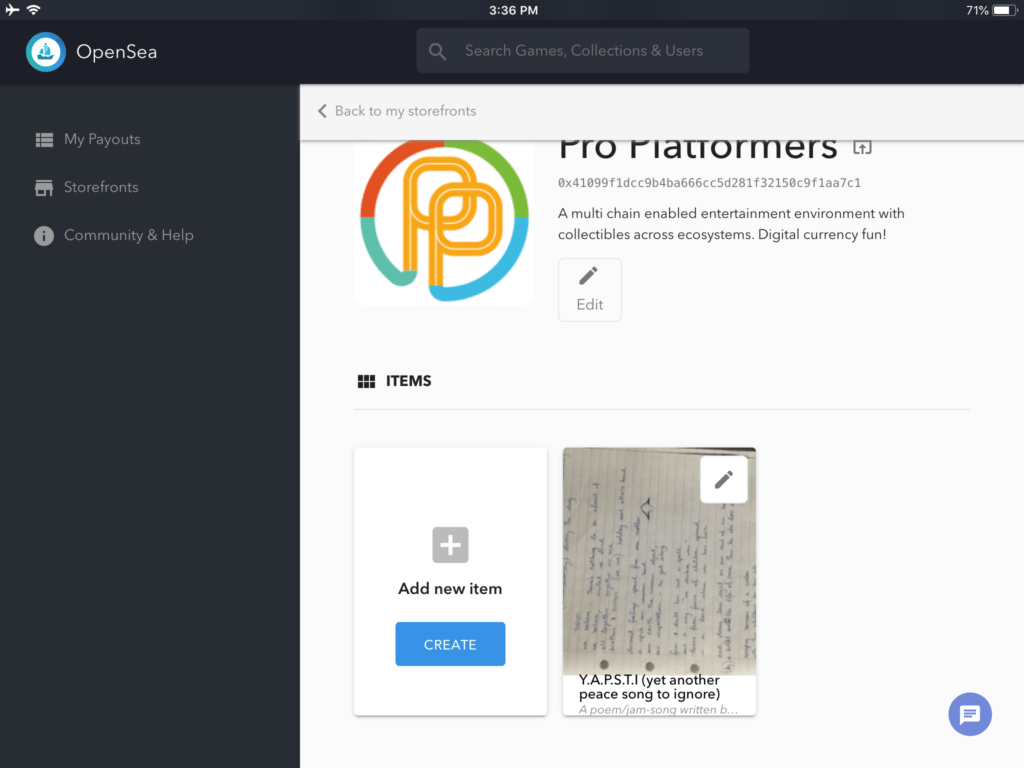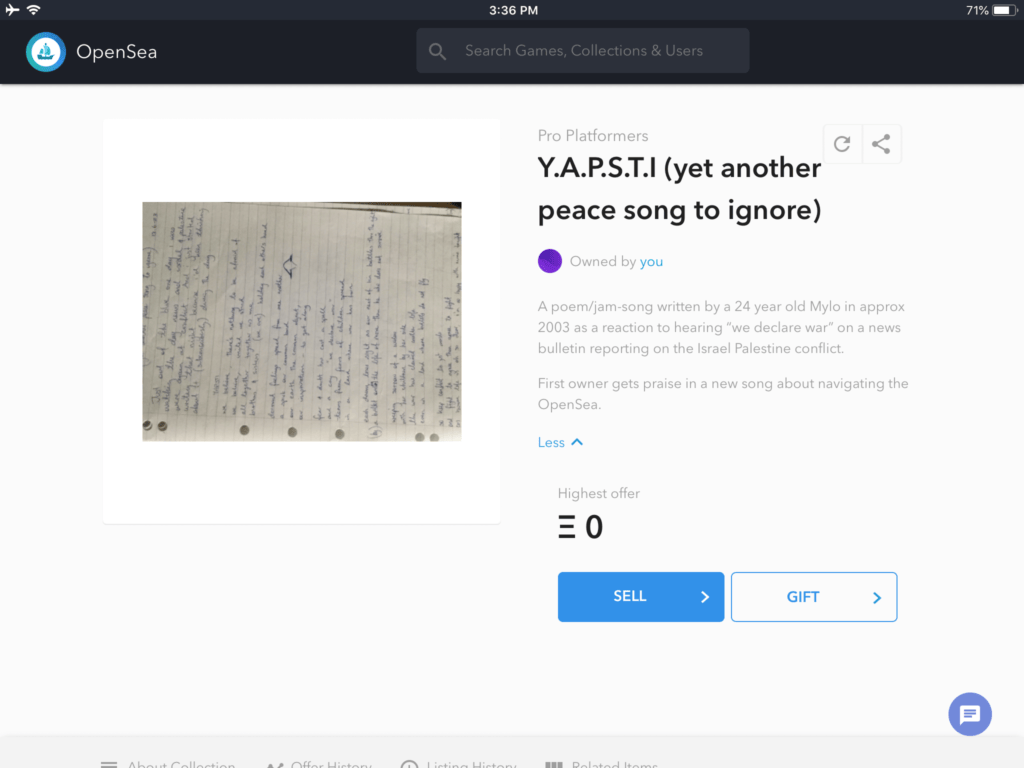 Now you know what you need to do?
Yes, sell it!
The details of how you want to sell it can be configured with:
The sale method: Set Price or Auction or Bundle Item
How much to sell it for
What currency you'd like to receive
The commission rate (referral bounty) for any referrers that sell your item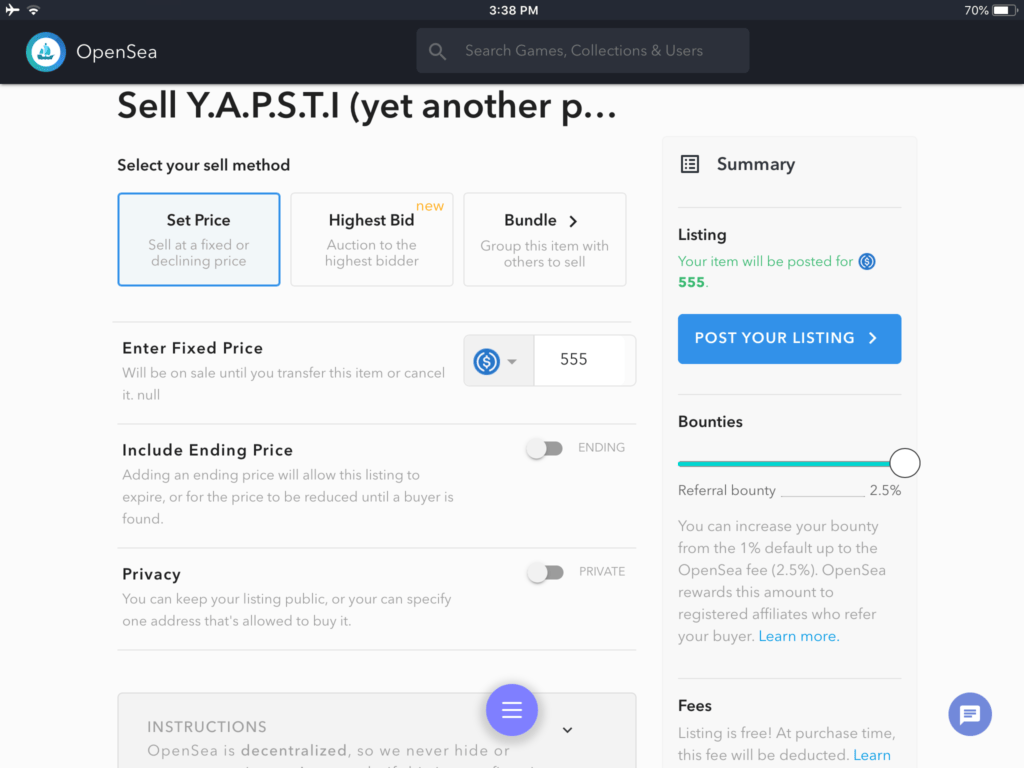 The fees is not an option to configure. Although listing the item is free, OpenSea will take a 2.5% commission for the sale.
Click on the "Post Your Listing" button and OpenSea will request for your signature authorizing them to list your item for sale.
Once this is processed, your item is officially for sale!
First Time Sellers Additional Authorizations
On the first item for sale, OpenSea will ask for authorization to sell items in your account. This requires a zero payment action, however the gas fees of Ethereum still apply.
Stablecoin Authorization
For my first item, I chose to sell with the USDC stablecoin as the currency. Because I was testing the Opera Crypto Wallet at the same time, and because of my lack of familiarity of the Ethereum transaction workflow as well as the requirement to authorize the use of a stablecoin, I was left a little overwhelmed with the requirements to confirm all of these transactions. I was lost for a few moments, but had faith that the system was working as intended.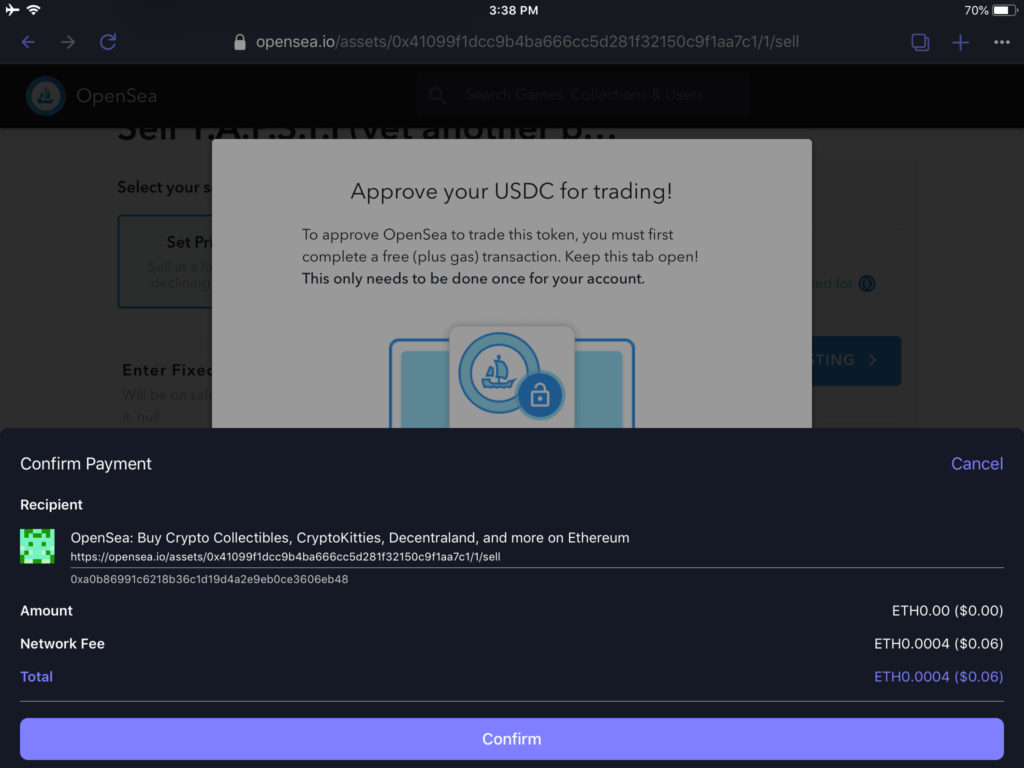 Item For Sale Summary
We made it! We have successfully listed our digital item for sale in our new storefront! Clicking into the item, we can see it's history from it's birth to it being listed for sale. In this case it is for $555 in USDC stablecoin.
Where To From Here
This only the beginning of the collectibles marketplace journey. The simplest next step would be to use storefront editor to make it look nice.  Take the Crypto Assault storefront as a clean example.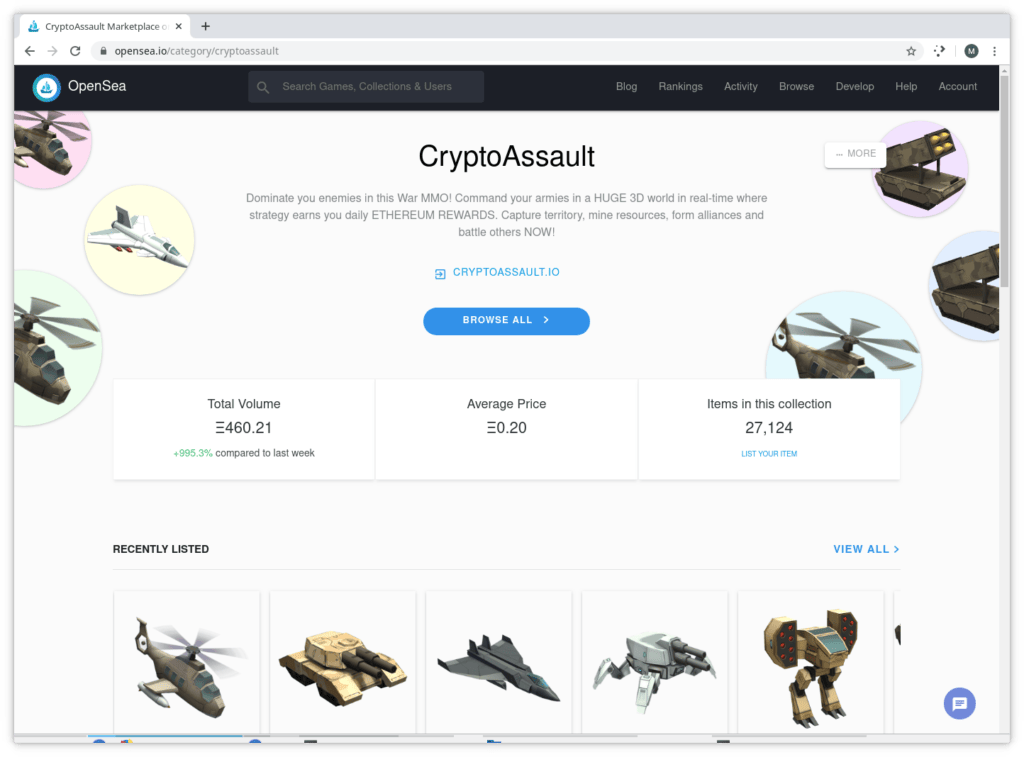 Other options include embedding the storefront into a website, or into a mobile application.
OpenSea is statistically speaking the eBay of collectibles, gaming items and every other digital asset backed by Ethereum blockchain. Trading on it occurs through smart contracts. OpenSea is a decentralized marketplace which means no central authority holds what you sell or buy on OpenSea, which includes the funds used to trade. Payment mode is only ETH and other ERC-20, ERC-721 or wrapped tokens backed by the Ethereum blockchain. Visit the project's home page.
OpenSea Volume
There are currently over 4 million digital assets available for sale on OpenSea. It is a decentralized marketplace where you can sell, purchase and auction your digital assets. The monthly volume is near 4000ETH in value. The largest margin of items traded are gaming items, crypto kitties, cards etc.
Who Can Use OpenSea
Your digital asset is sold directly on the blockchain, when you click on an item it has a 0X address instead of a URL/Name which is an Ethereum address. Even non-developers can create and sell their own items. You can also list your own smart token assets, if you are creating one for your game or other dApp (decentralized application) like non-fungible tokens etc. Moreover streamers, influencers can also be listed on this blockchain.
Marketplace for NFTs
OpenSea allows us to sell NFTs(Non Fungible Tokens) projects, get custom statistics, analytics and earn when our items are traded on OpenSea, Consider it a DEX but only for NFTs & other collectibles. The smart contracts are open source and the code can be inspected or contributed by anyone. They also have their own JavaScript library for developers willing to make their own contracts on the OpenSea relay. OpenSea can be integrated with your own websites as well.
How To Sign Up
Sign up is really easy if you have ever used MetaMask or another blockchain identity or browser wallet. OpenSea works exactly like traditional Ethereum exchanges or 0x relays validating transactions directly on the wallet, instead of sending it to an address. 
Read our MetaMask introduction article. For additional help, we have attached a graphical representation of this process.
Buying Collectibles
Just simply click buy & then wait for the blockchain to confirm and you now hold this NFT. This unusual validation process occurs due to OpenSea's decentralized nature. It doesn't hold the coins or the NFT you purchase or sell. You do via the blockchain and your private keys.
Help & Support
Help and support is available through an extensive discord community with almost 4000 members. This group has professional moderation. FAQ and Blog is also pretty extensive and intuitive.
Today we will review another amazing DEX build on 0x relay on top of the Ethereum Blockchain called DiversiFI (Formerly as ETHfinex). Diversifi is a decentralized exchange with a daily volume of $2,829,269 according to coin market cap, Ethfinex is a really nice exchange for trading Ethereum and ERC-20 tokens into USDT and other ERC-20 tokens and etc.
Please note that don't trade WBTC for ETH or any other ERC-20 token as WBTC has a bug in its contract and amounts and values aren't displayed correctly my coins are still stuck in a specific wallet and have tried many alternatives to recover them.
Rebrand Update:  Ethfinex has rebranded to DeversiFi - visit the project website.
On the main page of Diversifi you will see trading charts, tables and etc, there are no fancy sign up process involved to trade on it as we have saw in every 0x relay it simply gets connected with any Ethereum wallet and interacts directly with the wallet to send and receive Ethereum or ERC-20 tokens you want to trade.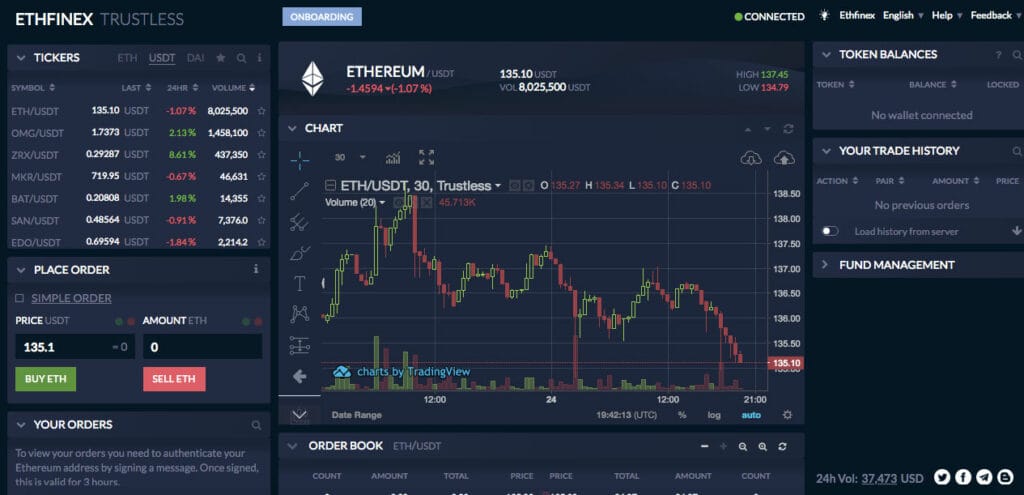 Connect Wallet
To setup coins for trading you have to connect your wallet there are many options to consider but I prefer MetaMask if you are new and it is more easy and secure,
Once you select MetaMask, it will open up a pop up screen asking you to connect your wallet with Ethfinex,
Account Balance
After connecting the account the balance in your wallet will appear on Ethfinex, does that mean Ethfinex now hold my coins? the answer is no, the coins are only displayed in for of WETH (Wrapped Ethereum) which is the standard protocol for Eth used for trading, the coins are unlocked on Ethfinex and it is your choice to lock them for trading or cancel, the coins are unlocked by default and traded coins are unlocked by default,
To trade on Ethfinex the steps are pretty simple and standard like every exchange in the world select a pair click buy or sell depending on your case, the newly exchanged coins will appear in your token balance which you can withdraw by locking them they will be locked by default,
Trading Fees
The fees associated with Ethfinex are from 1 to 5 percent minimum to maximum and support can be found on telegram and blogs while there is facebook and twitter community as well.
Today we will talk about another DEX called IDEX. It is a decentralized exchange that is built on top of Ethereum blockchain that allows us to trade ETH and other ERC-20 tokens into other digital assets and crypto-currencies. IDEX is an emerging exchange but still the current daily volume is 1 million USD plus.  Visit the project website once you read this review.
IDEX combines the experience of a centralized exchange which means, exchanges are done instant within seconds and it provides seamless security which makes it a good choice for traders to do business on. In this article we will review on how to make an account on idex and how to trade on it, when on the IDEX site we will get a main page like this,
Create a Trading Wallet
To create a new account go to the New Wallet Page, it will only ask you to create password, the username or the keystore is by default stored in your browsers cache,
The Next step is saving the private key and backup files such as key stores and private keys,
The signup process is done here the next step is setting up the wallet, IDEX provides a list of options when it comes to making a wallet, is even hardware and 3rd party wallet integration as well,
I had MetaMask on my browser so i chose software wallet but you can create key store or private wallet which is recommended if you are new.  For private key wallet just paste the private key where it asks you to, once your wallet is done the most important thing is understanding the concept of how IDEX works for deposits and withdrawals.
Deposit & Trade
You have to send Ethereum to your wallet address on the top left side of IDEX, once sent go to the Show Full Balance page,
As you can see I have ETH in my account but i can't trade ETH until I deposit it into IDEX tradeable for this just click on the DEPOSIT button,
One this is done your ETH balance will be shifted into IDEX balance which is now tradable and you can purchase or sell assets,
To trade on ETH simply select the pair from the main screen, for the sake of this article I selected WBTC/ETH pair for trading purposes,
Trading is really simply on IDEX pretty standard like many exchanges and is easy to navigate if you are new and don't know much about trading, the trade was successful and I received WBTC within seconds,
Withdraw BTC
The WBTC was in my Balance page and for withdrawal the process is same as it is for deposit the balance is first into IDEX wallet which then you have to withdraw to the My Wallet Balance,
To transfer this WBTC from IDEX to another wallet you have to hit the Transfer button, enter address and amount and transferred,
Trading Fees
IDEX charges 0.2% for the market taker and 0.1% for the market maker. Users also pay gas fees to put their transactions on blockchain.
Live Chat Support
IDEX has mostly positive reviews on the internet and the people who came across it mostly left positive comments, maybe dude to the live chat support, which was indeed live when I needed consultancy, the agent was connected and replied to every question or query regarding IDEX, sending or withdrawal etc.
Overall IDEX is a real positive exchange from my point of view and all the aspects such as liquidity, capacity, security, support met the standards.
Today we will review 0x protocol. it is a protocol and tool for building DEX platforms on top of the Ethereum blockchain allowing peer-to-peer exchange. 0x allows the exchange of assets, crypto-currencies, and much more, 0x is not a decentralized exchange but a protocol followed by DEX.
It has got multiple DEX which is called relays under the 0x platform, these DEX allows trading from ETH to other crypto-currencies and assets, the token used by 0x is ZRX and it believes everything in the future is a token.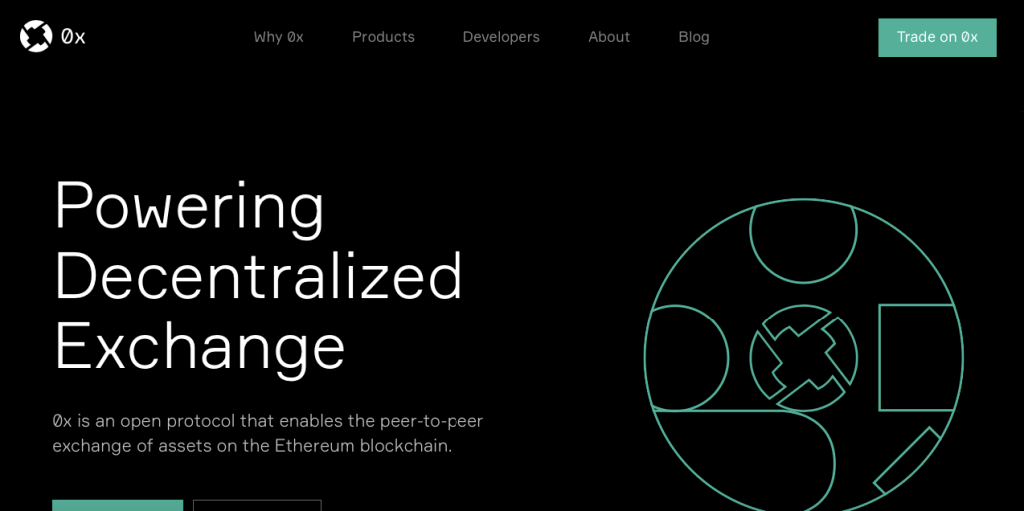 0x is really advanced trading protocol and its most relays are really hard to understand and trade on but there are few steps before trading on 0x, which includes setting up wallet, wrapping ETH, unlocking XRX etc, upon the trade page we can view the screen like this.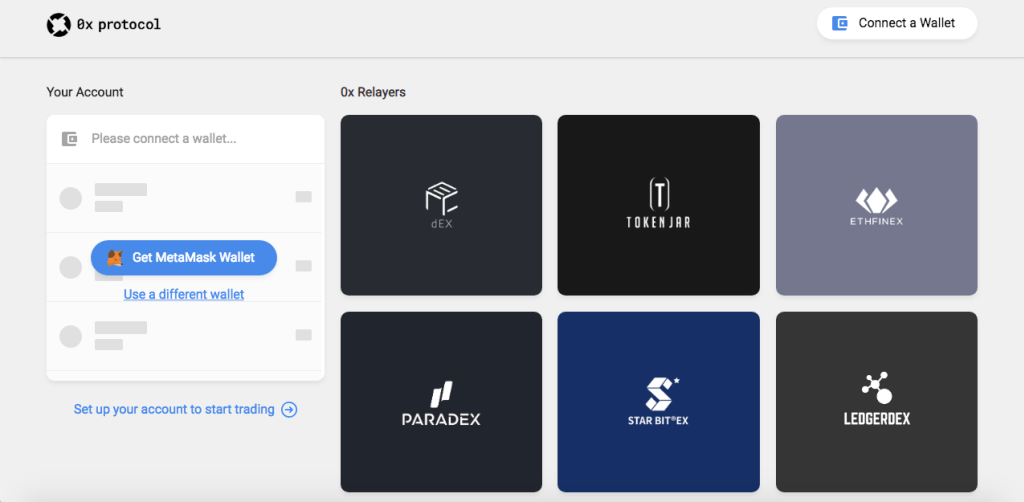 Install MetaMask from the chrome web store and make sure you have some tokens in your Metamask wallet. Once you have MetaMask installed refresh the page and a confirmation page might appear.
ERC20 tokens built on the ETH blockchain can be added as well, to trade on 0x. You might need to wrap your ETH into WETH which means wrapped ethereum, this token is used for trading on relayers, just simply click on the wrap ETH enter the amount and wrap ETH, it usually approves in seconds, and the same process can be followed to unwrap ETH.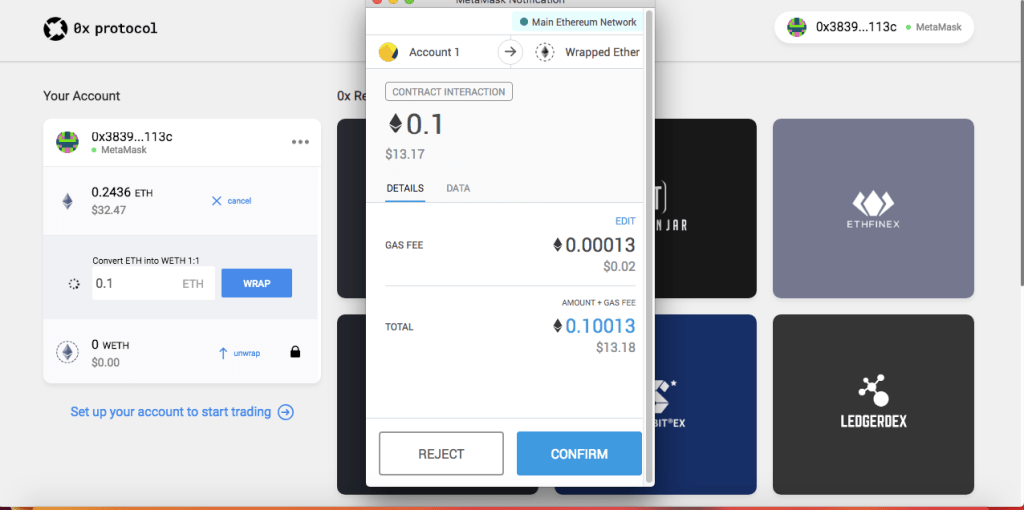 Unlock the ZXR and you are good to trade on 0x, now what relay should you choose to trade? the answer is you can use any relay they all are DEX and built on the same blockchain but these relays are really advanced and might not be suitable for you if you are new into trading, the first three relays might not be suitable as ERCDEX is under development, TOKENJAR and ETHFINEX, might not have a suitable UI for new comers.
ETHFINEX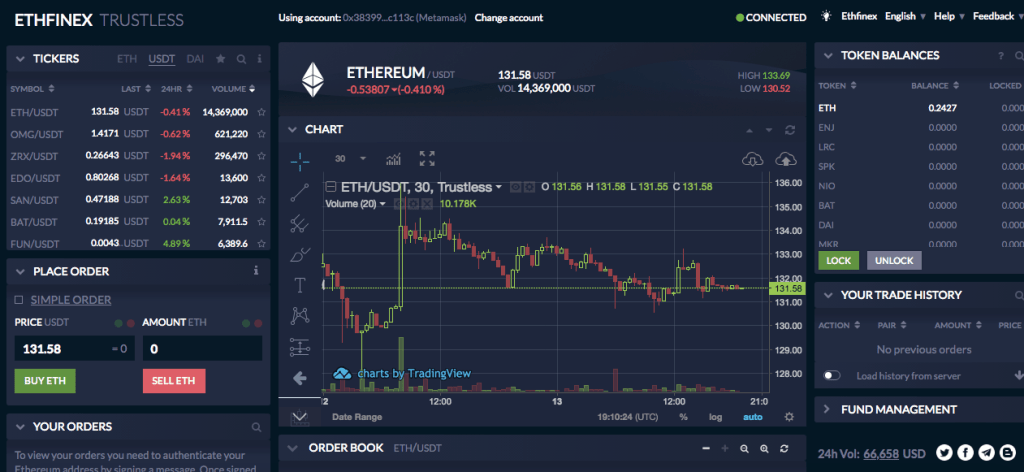 TokenJar
StarBit DEX
ParaDEX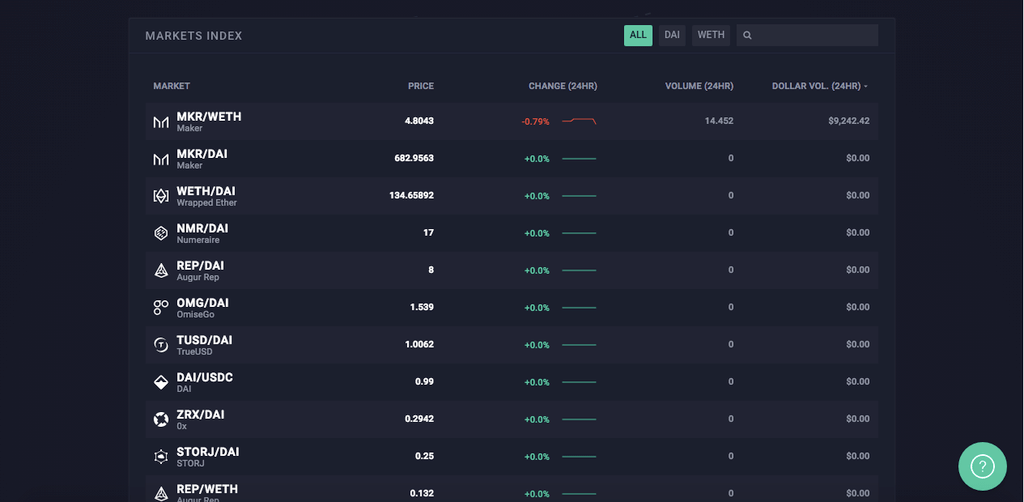 Building On 0x Relay Technology
0x also allows you to built your own relay/exchange following the protocol and get added in it's relays, which are built on the 0x platform by different group of developers or companies, 0x is built on javascript & typescript, which are really popular programming language nowadays, allowing developers to build apps, micro services, web applications, amazon web services and even 0x and ETH have some involvement of JS in it, if you are a developer the documentation on 0x really helps you to build your own relay and how you can add unlimited seamless exchange of assets and coins, network liquidity, making and taking orders, this is indeed a good option for developers check it out.
There is not much security associated to talk about on 0x as different relays have different kind of security and privacy options but all of the relays associated with 0x are decentralized and have good liquidity for making exchanges.