Today we will review HyperDEX. It is another amazing multi coin wallet and decentralized exchange that works with P2P order books. Trades made on HyperDEX are made via cross chain atomic swap technology. This means it works slightly differently than a centralized exchange.
HyperDEX is open source and still in development stages as we will be reviewing the Beta version of HyperDEX. The code can be found on Github and you can easily contribute as a developer.
This multi coin wallet is safe and easy to use with a user friendly interface and the portfolio allows to send, receive and exchange 100+ cryptocurrencies and tokens. In this article we will tell you the steps on how to setup a wallet send and receive coins and how to exchange your tokens.
Please note we are reviewing the Beta version of HyperDEX it is still in development as it is stated on GitHub page it might have some issues in market maker and might lag on some different versions.
Upon downloading we can see a signup or create wallet screen like this,
Create a new portfolio or restore your wallet with the backup seed phrase. The next screen will be creating a portfolio name and password, like username and password which will be used for later log in for the wallet,
A backup seed phrase screen will be displayed with 12 words, standard on every wallet and that can be used for backing up wallet data, the seed shall be pasted/confirmed on the next screen.
We are all set here you will now be navigated to the wallet screen which has some popular coins listed on the left hand side,
To send or receive coins hit on the receive button once selected a coin and you can send coins through QR code or address,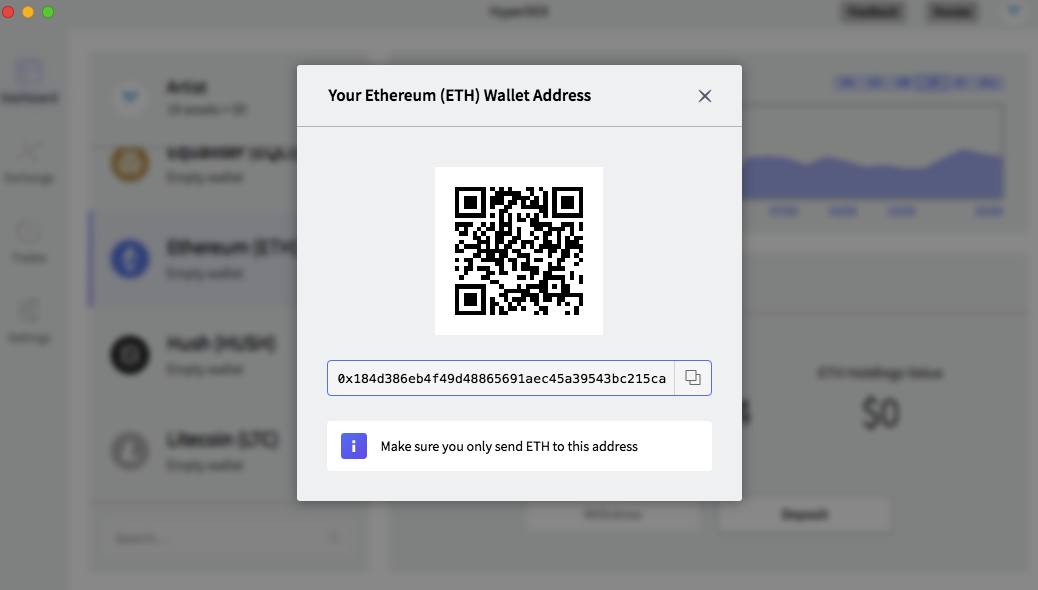 This is how your screen will look like once you have received the coins, displaying value in both Ethereum(in this case) and USD, while telling you the updated market price,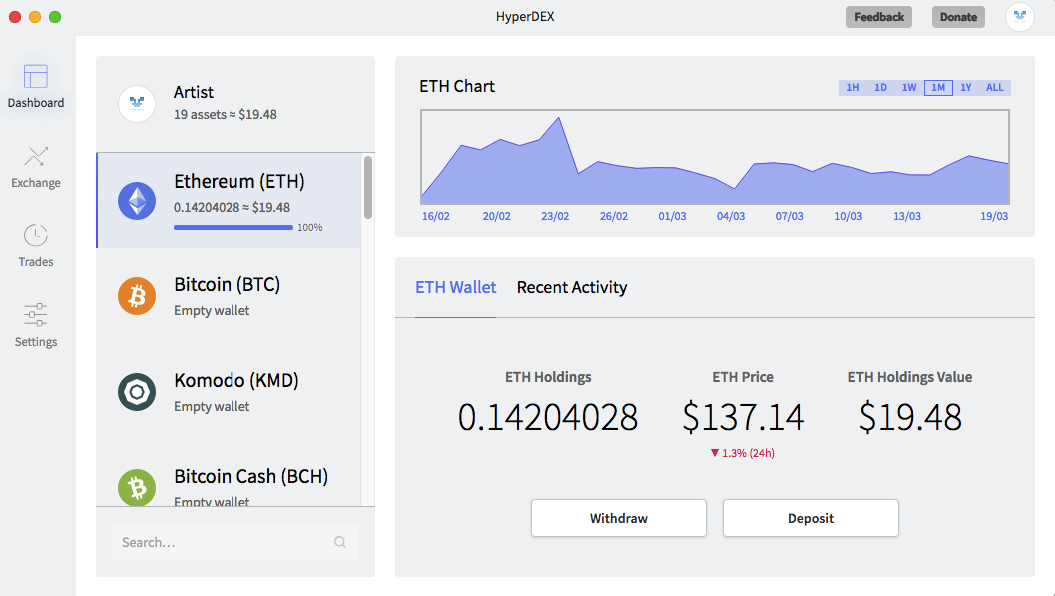 Same goes for withdrawals a popup screen with appear which will then allow you to paste address and amount and you can withdraw your coins.
HyperDEX is really easy to use with more coins can be listed or added from the settings menu. It supports more then 100 coins in early stages which is remarkable!
Seed phrase can be downloaded again from settings menu as well as all your trade history can be downloaded into CSV format for safe keeping or proof, the trade screen shows all the history of open and completed trades, HyperDEX is also easy to use and new comers can easily trade but few things to keep in mind as it is still in development stages and wise not to do trading as the current market maker link is unstable, custom market maker can be implemented in HyperDEX of your choice for flawless trading, this option is available on the login screen,
HyperDEX is really easy to use and has a multi coin wallet. It is secure dApp and can be used for storing Bitcoin, Ethereum or other Altcoins. This wallet can be accessed from GitHub and the source code is also available for contribution. It is still in development and will be completed and ready for a final launch this year according to our sources.