One of the largest Crypto Assets exchange in the world Binance previously launched Binance DEX. Binance is one of the largest exchange in the world with more then 450 coins listed to trade on it and with a daily volume of 1.35 billion. It is a beast for traditional traders who liked to trade on centralized exchanges.
Binance had its own coins named after the exchange which had a price of $16.84 at the time of writing this article and a daily volume of 47 million dollars contributing almost 3.5 percent on the daily trade of it. It is still doing fine as compared to many exchanges but technology will move to secure decentralized exchanges,recently the CEO of Binance launched a testnet DEX for Binance in February stating:
"Binance DEX is a decentralized exchange with a decentralized network of nodes, where you hold your own private keys and manage your own wallet," said Changpeng Zhao (CZ), CEO of Binance. "With Binance DEX, we provide a different balance of security, freedom, and ease-of-use, where you take more responsibility and are in more control of your assets."
Please note that the current DEX is on testnet server and still updating passively until a final release.
The current Binance DEX is developed on Binance chain which is a new protocol of blockchain developed by Binance and its community specifically for creating the Binance DEX. The current Binance coin is an ERC-20 token which will be migrated to Binance chain forming itself into a completely native coin instead of an ERC-20 token.
To start with Binance testnet server the first step is getting Binance coins. The current dex only has an option to deposit in Binance coin, but in this article we will give you a brief review of the exchange, how to setup a wallet and setup your account to exchange coins,
The main screen of testnet Binance DEX will look something like the above image you need to setup a wallet for Binance DEX, which is slightly different then many 0x DEX relays we reviewed before. It works like a normal exchange, the first step is creating a password and downloading the keystore file,
The next step will display your seed phrase which will contain 25 words. Copy it or write it down in cold storage, then you will be guided to a confirm phrase screen which will ask you to arrange the seed phrase according to the series and you are done.
Log in to binance this step gives you many options. Logging in via:
Keystore and password
Seed phrase
Hardware wallet
Private key which will be saved in your browsers cache memory
After logging in you will get the main trading screen with insights into:
charts
trading pairs
24 hour volume
price
On the current testnet server there are 4 main pairs associated:
BNB (Binance Coin)
BTC.B (Bitcoin Binance)
ETH.B (Ethereum Binance)
USDT.B (USD Tether Binance)
The .B after all main trading pairs to display that the current DEX is running on Binance chain and the coin will also shift itself to Binance chain.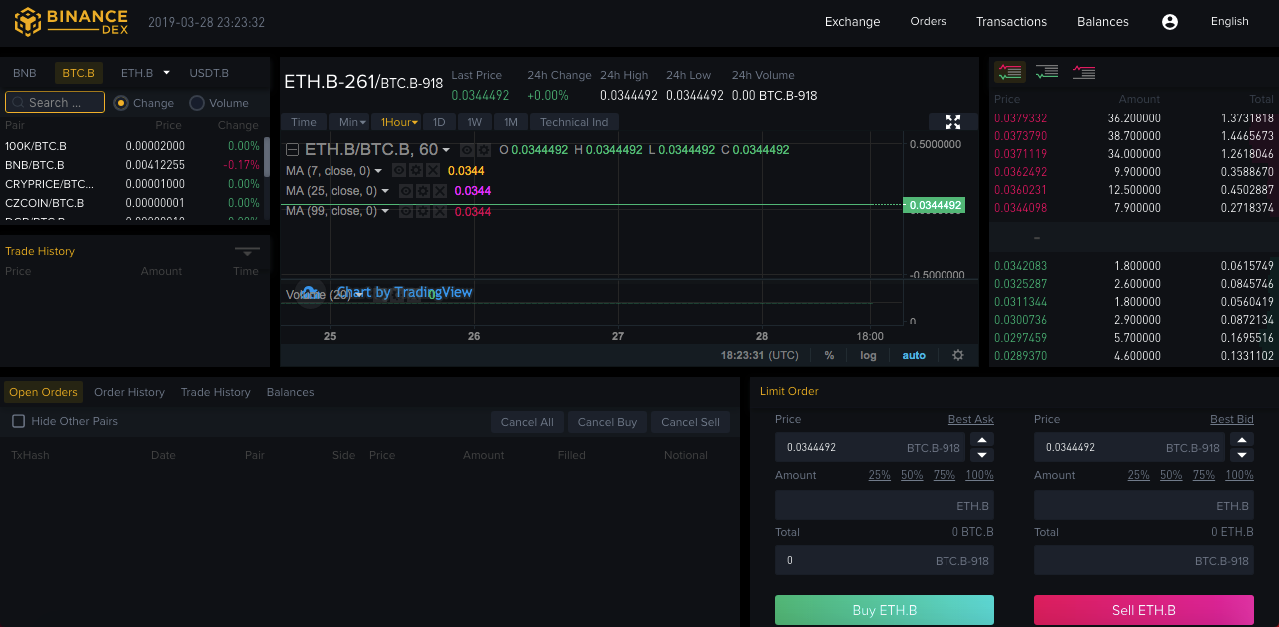 The process for trading on Binance is really simple and follows standards used everywhere.
Select a pair
Choose whether to buy or sell
As previously said, for the time being it is a testnet server running on a temporary chain. Deposits cannot be made in any other coin except for BNB(Binance Coin).
However, if you have traded BNB to ETH for instance you can withdraw it from the balances page, any coin can be withdrawn in Binance,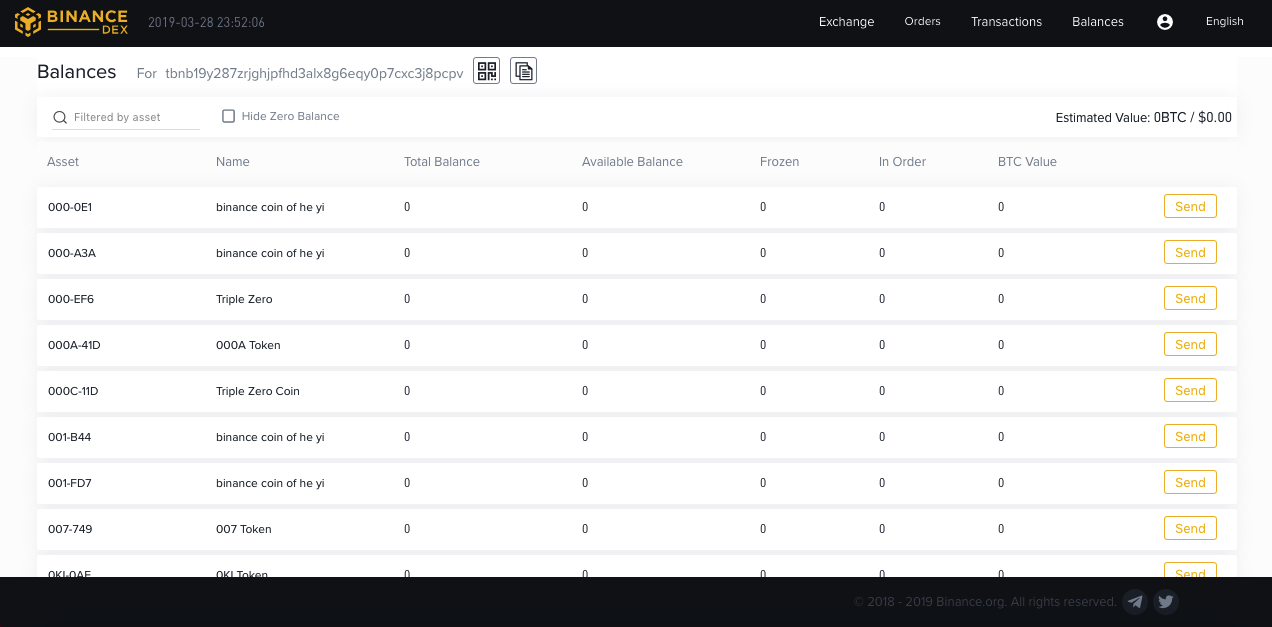 There are currently 325 coins listed on binance that you can trade to and from in ETH, BTC, BNB or USDT pairs. There are a lot of options for DEX lovers and enthusiasts as there aren't many DEX available providing this variety of coins to trade from.
The current customer support is available through extended FAQ and Documentation, while there is a blog available as well, there is no phone or email support for now but telegram is available for users.
Binance DEX is just a recent launch on 20th February the server is a testnet but even in so less time the community has made it popular choice to consider. When you want to go for a DEX similar to a CEX experience, the Binance centralized exchange was really popular. Binance aims to update and move forward the DEX technology by introducing Binance chain and changing the perspective of how we see blockchain and exchange technologies.