What is Yield eAggregator?
Yield aggregators are platforms that implement multiple DEFI protocols/chains to provide users with an enhanced experience. They implement different protocols and strategies to provide users with maximum returns. The returns can be fixed or variable and require users to stake and lock funds.
They are different from other farming and staking platforms because they have multiple sources or mediums of investments. Conventional yield farming often comprises of a single chain, unlike Yield aggregators.
What is Autofarm?
Autofarm is a yield aggregator platform that facilitates users with staking options for the Binance Smart chain, HECO, and Polygon network. The TVL (Total Volume Locked) and the market cap of Autofarm at the time of writing is $1.00 Billion dollars.
Autofarm optimizes assets and their returns from different BSC platforms such as Venus, Pancakeswap, Bakeryswap, etc. You can also choose from Single Assets, Liquidity Pool Assets, Stable coins, Stable coin LPs.
Almost all of the assets locked consist of Binance smart chain assets. The TVL of the Binance Smart chain alone is $939.13M in autofarm vaults. Autofarm is also working on AutoSwap, which is a DEX service for BSC assets.
Auto swap is in public alpha mode, the platform has advised users to be aware of the risks before swapping assets.
How to deposit or exchange?
Autofarm is a really simple to use and intuitive platform from a user's point of view. There are no fancy sections, or unnecessary advertisements, the website is really precise and to the point.
Autofarm supports Binance smart chain wallet and Wallet connect. You can connect your wallet and stake assets based on the annual ROI or preference.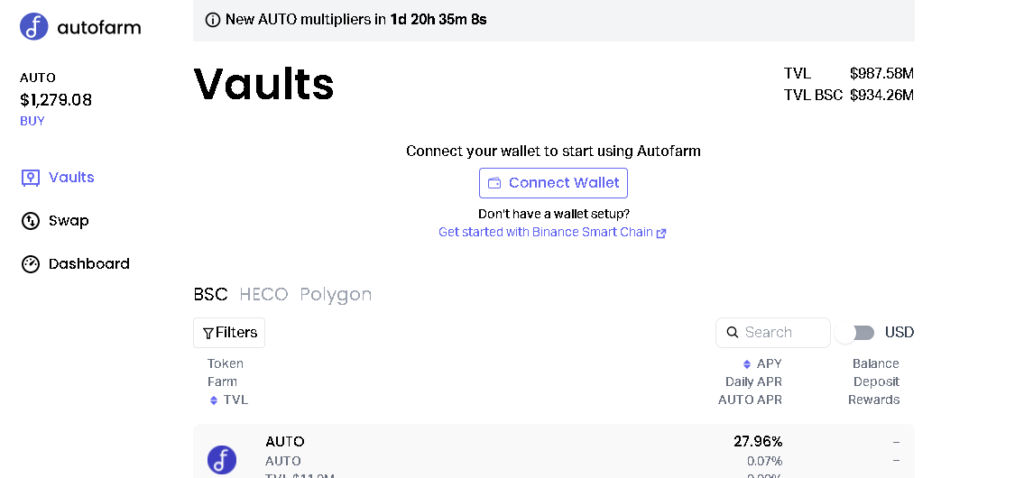 Autofarm Token
Autofarm has also developed a platform token called AUTO. It is a Binance smart chain asset with a market capitalization of $57M at the time of writing. You can check the contract here.
Code, Safety and Community
The platform has made its chain public on its official Github repository. It is written in Solidity. Autofarm has also been through a number of audits by different firms, such as CertiK and others. You can read the full reports here.
Community support and help is available on telegram, discord, reddit and official blog posts can be found on medium.