Today we will review another amazing DEX build on 0x relay on top of the Ethereum Blockchain called DiversiFI (Formerly as ETHfinex). Diversifi is a decentralized exchange with a daily volume of $2,829,269 according to coin market cap, Ethfinex is a really nice exchange for trading Ethereum and ERC-20 tokens into USDT and other ERC-20 tokens and etc.
Please note that don't trade WBTC for ETH or any other ERC-20 token as WBTC has a bug in its contract and amounts and values aren't displayed correctly my coins are still stuck in a specific wallet and have tried many alternatives to recover them.
Rebrand Update: Ethfinex has rebranded to DeversiFi - visit the project website.
On the main page of Diversifi you will see trading charts, tables and etc, there are no fancy sign up process involved to trade on it as we have saw in every 0x relay it simply gets connected with any Ethereum wallet and interacts directly with the wallet to send and receive Ethereum or ERC-20 tokens you want to trade.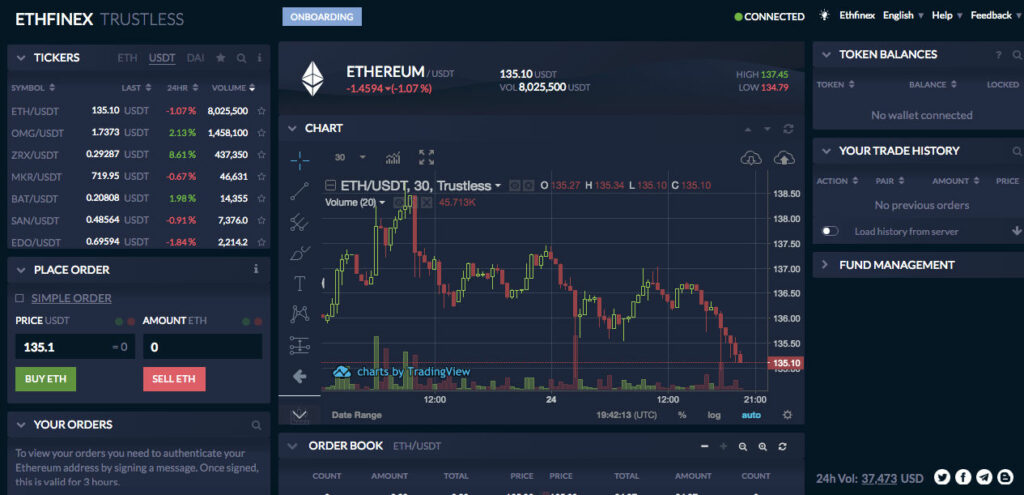 Connect Wallet
To setup coins for trading you have to connect your wallet there are many options to consider but I prefer MetaMask if you are new and it is more easy and secure,
Once you select MetaMask, it will open up a pop up screen asking you to connect your wallet with Ethfinex,
Account Balance
After connecting the account the balance in your wallet will appear on Ethfinex, does that mean Ethfinex now hold my coins? the answer is no, the coins are only displayed in for of WETH (Wrapped Ethereum) which is the standard protocol for Eth used for trading, the coins are unlocked on Ethfinex and it is your choice to lock them for trading or cancel, the coins are unlocked by default and traded coins are unlocked by default,
To trade on Ethfinex the steps are pretty simple and standard like every exchange in the world select a pair click buy or sell depending on your case, the newly exchanged coins will appear in your token balance which you can withdraw by locking them they will be locked by default,
Trading Fees
The fees associated with Ethfinex are from 1 to 5 percent minimum to maximum and support can be found on telegram and blogs while there is facebook and twitter community as well.