What is pancake swap?
Pancakeswap is a decentralized exchange running on Binance smart chain. It is also the top spot category liquidity provider for Binance smart chain assets. The total volume is more than $2.15 billion with a circulating supply of 140 million cake tokens. The daily trading volume is more than $1.5 billion.
This platform recently surpassed the world's largest DEX uniswap in terms of trading volumes. Pancake became operational in September last year, despite being fairly new the platform has managed to reach a remarkable user-base with returns and incentives.
It is one of the rapidly growing communities in the Binance smart chain community which is providing users huge incentives, options, and personalized IPO's.
You can do the following on Pancakeswap:
Trade BEP20 tokens.
Provide liquidity to the exchange and earn fees.
Users can stake their LP (liquidity provider) tokens to earn CAKE tokens.
They can also stake CAKE to earn more CAKE.
Stake CAKE to earn tokens of other projects.
Play lottery to earn cake.
Decentralized Exchange?
The token swap is as simple and similar to uniswap. This makes the exchange noob friendly, easier to understand for newcomers. To swap tokens simply connect a wallet, select to and from tokens, and exchange.
There is a flat 0.2% fee on a trade that goes to liquidity providers and reserves. The trade execution time is instant due to the block time in the Binance smart chain which is less than 5 seconds.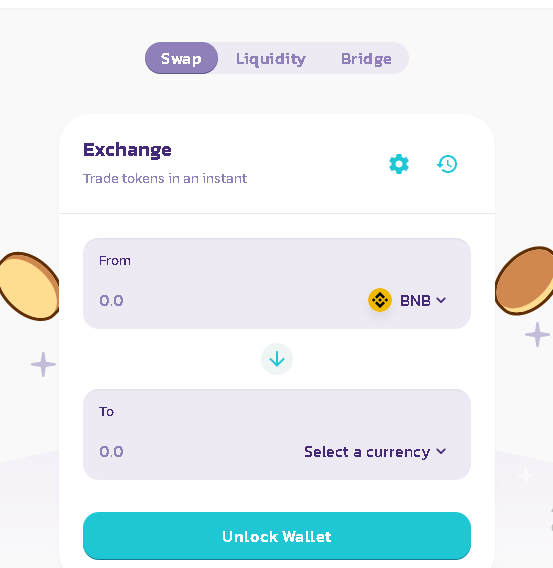 Adding Liquidity
The liquidity provided to the exchange comes from tokens that are stakes in Pools. In exchange, Liquidity providers get (PancakeSwap Liquidity Provider) tokens or FLIP tokens.
When a trader makes an exchange or swap they pay a 0.2% trading fee. The 0.17% of the fee earned goes to the liquidity pool as an incentive for the liquidity providers and 0.03% goes to the Pancakeswap reserve.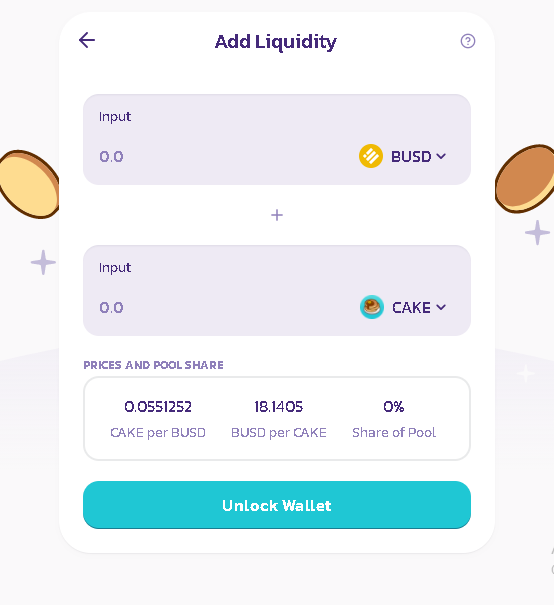 Once you provide liquidity to the example pair above, you receive an LP (Liquidity provider token) with the pair name. For instance, ADA/BUSD for providing BEP-20 Cardano and Binance USD liquidity.
Each token represents the number of tokens from the pair provided. One LP token would mean you have provided liquidity of 1ADA and 1BUSD. The interest earned on the token swap automatically adds up to the token 0.17% each.
Yield Farms
Another highly profitable option for liquidity providers to multiply their income is farming. Farming allows LPs (Liquidity providers) to stake their FLIP tokens received for providing liquidity to earn back CAKE tokens.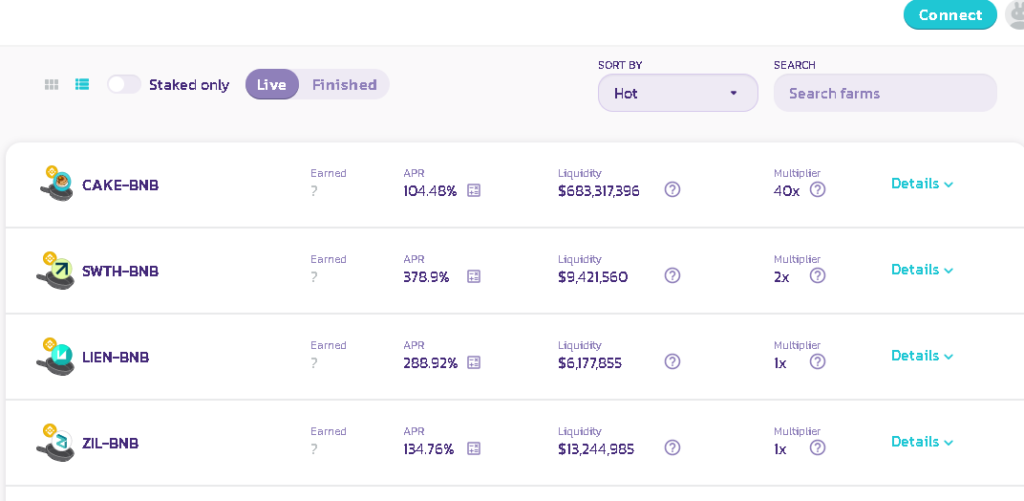 The coins staked can be withdrawn back any time. There is not a fixed-term for staking your coins to earn profit. The multiplier represents the amount of cake a farm receives per block. If a farm is a 40x multiplier it means the cake received would be 40 per block (depending on the block reward).
Lottery
There is also a pancakeswap lottery for gamblers. The lottery pool is public and the reward comprises tickets bought by users. To participate users buy a ticket for cake. Each cake will get you 1 ticket consisting of 4 numbers from 1-14. If your numbers match the positions you win. The prize pool is distributed as follows.
50% of the pot goes to the user matching all 4 numbers and places of their ticket.
20% of the pot goes to user/users matching 3 numbers and exact places of their ticket.
10% of the pot goes to users matching 2 numbers and places of their ticket.
The remaining 10% is burned.
The position of numbers on a ticket and winning number should match.
The winning number is determined using a blockchain algorithm. You can refer to it here.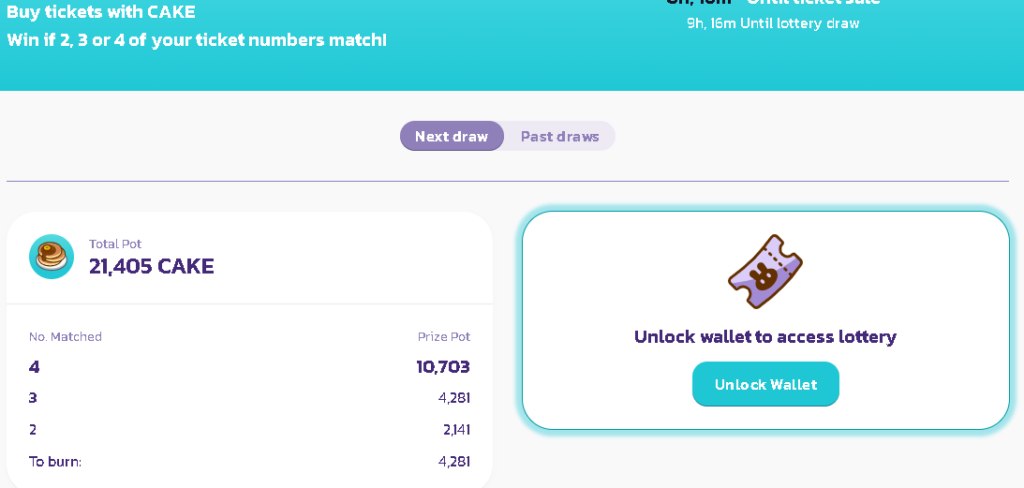 There used to be 4 sessions in a day (6-hours a day). An increase in traffic changed the session timing to 2 sessions each day. Each session is 12 hours long and there are a total of 4 sessions. In every 3rd session, the platform injects 20,000 cakes into the lottery.
The lottery contract is public and audited by third parties.
The newer version of the lottery has 2 sessions in a day and 10,000 cakes injected every 4th session. The numbers have changed from 4 to now 6 and each number is from 0 to 9. Visit the site to know more
IFO (Initial Farm Offering)
This platform has a new and unconventional method of fundraising for new platforms. This fund offering allows investors to commit their LP (Liquidity Pool) tokens to an upcoming project. Investors can buy a token sale with flip tokens and claim at the end of the sale, simple.
You can launch your own IFO by filling out this form or going to https://pancakeswap.finance/ifo
Overview
There is a pancake swap info website to view analytics. The project was audited by Certik which is a blockchain security and auditing platform. They have public information and score of all major platforms. The audit reports are public and anyone can read and review them.
There is a docs subdomain for detailed information. The codebase is public and available on GitHub about the contract, voting, front-end, exchange, etc.