Mark Cuban has always been a huge fan of the cryptocurrency revolution. He is in the list of very few capital investors who actually like cryptocurrencies and show their support towards this cause. This love is not unrequited and communities consider Mark a favorite with people like Elon musk.

In a recent interview with a popular YouTube channel Bankless, mark shared his views on open finance, DeFI and NFT's. Here is a breakdown of what the popular American entrepreneur had to share with the world about crypto revolution.
Why the sudden support?
Mark shared his views on bitcoin, calling it a "store of value" instead of a technological advancement comparing it with traditional finance. He said that it still isn't an alternative for the US dollar despite being so popular amongst masses. It cannot be seen as a regular currency although it is better.
"I've always compared it (Bitcoin) to Gold"
The popularity and prices of
An Ethereum FAN?
Mark shared that he was fascinated by the Ethereum network and smart contracts. He also admitted to minting an NFT on Mintable (A popular NFT platform). He explained the royalty process and ability to sell with freedom and ownership.
He identified the flaws of traditional trading and royalties where once sold the owner doesn't get revenue share on reselling. There is no process or accountability for resale as compared to trading on block chain where every record is immutable so every resale can be linked back to the original creator.
Mark also told that he is learn solidity to understand Smart contracts better.
"That is the first thing that got me started on NFTs".

Interaction with Mintable and digital royalties
Thoughts on Decentralized Finance?
Mark started research on DEFI upon hearing terms like Yield farming, API, token binging, and collateral lending. He identified the problems with tradition finance and stated that even if you are over collateralized you still have to go to a bank fill out paperwork and it is a multi-day process to borrow money.
He shined his knowledge on Decentralized finance and how it is changing the lending and borrowing market, with no pedigree, no background checks and fair play. DEFI is also a good investment for investor with great yields and APY as compared to investing in banking.
What got me excited is really understanding that DEFI turned Bitcoin and Ethereum into personal banking"

Mark on DEFI
I can borrow or anybody can borrow regardless the size in seconds

Mark on lending
Regulations?
"I have met senators trying to explain blockchain"

Mark on regulations in blockchain
He said that as generation z become more aware, smart capital will find its way. He is optimistic on DEFI to be success as more institutions will eventually realize and adapt decentralize models.
Gas fee?
He stated that most people see the APY, but not actually do the math and calculate the transaction fee for their investment or deposit. He said that if someone invests a $100 at an APY of even 60%, they should know that you have to hold it long enough to get break even.
This thing should be addressed as it can back fire on the whole industry. He said that platforms and networks should always keep this in mind, this can break the goodwill of the industry.
you gotta take care of the little guy

Mark talking about smaller investors
He said that even platforms like Aave are not taking this in consideration. A lot of people yield farming on a smaller level and trying to figure out are losing money.
What is VERUS ID
Cryptographic addresses are conventionally long and insentient. These addresses are random hard to memorize. Verus ID is a decentralized identity on the blockchain. In simple words, it is a blockchain unique name that can hold funds according to the user-specified time. Does this seem like a savings account? No it has a lot more to offer.
Verus ID acts like a name backed by a hash and an address. This eliminates long complicated cryptographic addresses. The ID created is unique and stored on the blockchain. Name can be created using letters and numbers.
Applications of Verus ID
Lock vault to hold funds.
Revoking and recovering an ID.
Sign files and messages which can not be forfeited.
Send and receive private messages.
Private addresses.
Users can send and receive funds on their Verus ID. They have private and public addresses just like the wallet. A vault can be created to lock funds indefinitely. It can still receive, store and stake funds. You can also alter the sending capabilities for a specific verus ID.
Recover an ID by creating multiple identities and creating a child parent relationship between them. This will allow the ID with more privilege's govern objective identities.
This method can also be used to create a multi-signature identity. This allows multiple users to govern a single ID or account with funds and expenditures can be administered with mutual consent.
Verus ID is also capable of storing confidential information. Any message can be stored on the blockchain which is backed by a key. The only possibility of verifying a message is using the same key and message, same can be done with files.
Gallery
RedFOX Labs is a start up that creates start ups. An incubator. On April 12, 2019 they had an IEO raising seed funding. Less than 12 months later, the first blockchain game with on-chain anti cheat features is heading to beta. The focus for this article is written from a technical point of view. Not a financial point of view. The technical highlights of Komodo are well known to me, because I have written approximately 30 of the Komodo Tech Tuesday articles to date. RedFOX CEO Ben Fairbank, colloquially known by his online handle bitcoinbenny, shot me a question for technical resources recently, which I will include in this article. It may not be clear to people where Komodo's technology fits in the creation of new startups, products and services, so let me try to make things more evident.
Looking at the proposal through their whitepaper, there are three sample apps for the media & finance industries as well as the proof of concept Zaddex hybrid exchange. The three sample apps are:
Why does RedFOX success benefit everyone?
Komodo is an open ecosystem. RedFOX is the first incubation project attempting to take Komodo technology mainstream. Komodo's technology offering is vast:
Multi-currency Wallet
3rd Generation Atomic Swap DEX Network
Custom Consensus Framework
Blockchain Starter Kit
Blockchain Security Service
The custom consensus framework recently enabled true decentralized oracles for decentralized price feeds.
How can these platforms be built by RedFOX Labs?
Whether the platforms created in the future raise their own funds or create their own currencies or tokens, the initial blockchain creation for any project RedFOX Labs undertakes is possible with Komodo's Blockchain Starter Kit (BSK). This is provided in both technical form (DIY Blockchain) and in service form — through service providers found at the Komodo BSK page. The Komodo team is also creating a SaaS blockchain generator due for launch Q2 2019. A custom blockchain is generated with it's own characteristics including rewards, supply, consensus, blocktime and more. So once these blockchains are created, how do you build on top of them?
Payment Systems
Cryptocurrencies & Stablecoins
Wallet & DEX
The crypto & stablecoin can be created with a new blockchain above. In the current news cycle, Facebook is hiring blockchain staff and online chatter revolves around a Facebook stablecoin rumours. In week 6 of Komodo's tech tuesday, I compared Facebook crypto acquisition to Komodo.
There is a new wallet in closed-alpha testing at the moment written from scratch and developed mobile-first. It's a crypto-superwallet actively tested. Multi-coin with a DEX baked in. RedFOX also partners with Zaddex, the hybrid DEX/CEX exchange. The RedFOX team has not disclosed the development roadmap of their payment system — I am only highlighting what Komodo technology is available to create a payment platform that accepts multi-currency.
Komodo has provided a whitelabel multi-currency wallet since 2017. The often criticized Agama wallet with it's "clunky" look and feel can be made beautiful.
Streaming Services
There are already a couple of blockchain integrated streaming media services — namely DTube amongst others. In Komodo's Tech Tuesday #6 from 2018, I wrote about the blockchain streamer proof of concept. What hasn't been recorded anywhere unfortunately is the proof of concept I quickly made for capturing webcam data using the browser's getUserMedia capabilities. Capturing video chunks around this line of code and appending to the local array of chunks, was instead fired off to the local running streaming transaction instance.
Given my testing was for live streaming, the Tech Tuesday article was for an existing data file — the likely solution for a VIETFLIX type of service.
RedFOX Labs, by using Komodo can mix-and-match it's technology offerings to cater for business requirements. It also scales because of the multi-chain architecture.
The first iteration of a blockchain based photo media service may start small — it may only serve the thumbnails of the streaming service.
There is more than one way to architect a photo media service. Whether it is with a URL (web or IPFS) or whether it is stored on the blockchain, like using an oracle for industry certifications storage there are many ways to develop it — and scale it. This capability alone is likely to be an industry solution to fake certifications.
More importantly, evolving the service as product lifecycles change or as the technology adoption grows — Komodo can adapt via it's multi-chain architecture and the ability to migrate chain data. Interestingly, if decentralized control of your own data leads to payments to the content creator via streaming payments or micro-transactions via on-chain instant channel payments.
Gaming Platform Development
The RedFOX Labs whitepaper does not mention any gaming products. This game announcement (kogs.gg) came after whitepaper publication. I have been a keen proponent of gaming blockchain solutions.
The interesting parts to blockchain gaming revolve around non-fungible tokens (NFT). These are the articles I've written about in Tech Tuesdays & the API docs for NFTs:
Torus is a private key management firm that develops and provides dApp authentication via OAuth API to improve logins for dApps (Decentralized Application), also an Ethereum wallet. Torus allows users to login to dApps with OAuth protocol via Google, Facebook, Github etc without sharing passwords or private keys. Torus aims to make trustless logins more secure, advanced and common.
Torus is backed by exchanges and companies like binance labs, coinbase ventures, sixth horizon, accomplice and terminal. Torus secured $2 Million seed funding from the above mentioned companies during July of this year. The company aims to have potential and aggressively wants to expand in password security and protection.
What is OAuth
OAuth stands for Open Authorization Protocol. It is a standard authentication protocol developed to help delegate seamless login access. This protocol allows users to grant information to other websites without sharing passwords. Some famous examples can be "Login with Google" or "Sign up with Facebook".
The convenience of these login methods has increased web and app usability, it is a welcome innovation in the dApp authentication and identity space.
How does TORUS work
By now you might have realized torus is serious business. It is most suitable for developers looking for decentralized key generation systems to integrate in their dApps. The user keys are encoded into a smart contract. Torus runs nodes & maps and shares it without holding any custody as it modified standard OAuth to make logins completely decentralized and trustless.
Torus plans to support more smart contracts platform as it is still in development stage. That being said torus works on ethereum mechanism and is developed on nodeJS. The web wallet also works on OAuth protocol, If you are looking forward to store some ethereum or any of the smart contracts or collectibles.
dApp Logins Made Easy For Developers
If you are a nodeJS developer torus might be an amazing development hobby for you. You can develop frictionless logins for your dApps, wallets, softwares etc. A complete documentation is available on https://docs.tor.us/
Email Login For dApps
Torus has a message on their developer documentation that they are working on email/password logins. To get notified when this is ready, email them at the supplied address on this page.
Torus Features
Account Recovery
Torus's OAuth logins inherits account recovery and management mechanisms from thier Verifiers. Each OAuth provider has their own methods of handling account recovery, completely independent from Torus.
In-App Fiat to Cryptocurrency
Torus has a range of providers to allow your users to purchase cryptocurrencies directly with Credit Card/Wire Transfer. Developers can either access this through presenting the "Topup" page below, or trigger the FIAT-to-Crypto providers directly from the API.
Collectibles ERC721 Supported
Torus UI supports collectibles via the OpenSea API. It is easier if already listed on OpenSea so that the Torus support can be done through the UI.
Export Private Key
In the event where the user would like to export their private key and use their funds from a different wallet provider, they can export their private key from Settings > Private Key.
Whitelabel & Language Support
The Torus wallet app supports multiple languages (Whitelabelling). Contact us at hello@tor.us for more information. The front-end is customizable to Enterprises on a production level.
Naming Resolver
Torus resolves user's ETH Address into OAuth IDs. This can be email address or social login. So there is no need for the person sending you money to type in long ETH addresses.
This storefront creation guide was so simple - it was done on an iPad! The Opera Browser with Crypto Wallet ethereum integration worked perfectly. The setup was seamless to create a storefront on OpenSea, then to create a digital item & configure it for sale. With very little ethereum experience (& a small amount of ETH), I was able to successfully create a storefront & list an item for sale with a set price. The price is set in the USDC stablecoin, so no matter what the fluctuations of the price of ETH, when my digital item sells, it will sell for a fixed amount. I was also able to set a maximum referral fee of 2.5% for anyone that refers.
This guide does not go into embedding the storefront in your own application yet, but as you can see from this picture - the Pro Platformers storefront can be found in the OpenSea search box with relative ease alongside legends in the asset tokenization market like CryptoKitties, Gods Unchained & Decentraland.
How Much Does It Cost To Setup A Storefront
Gas fees.  See below in the next section the transaction details.
For this walkthrough, gas cost me $3.75 for the storefront & an additional $0.81 to create my first collectible which authorizes OpenSea to trade USDC so I get a fixed amount on sale.
What You Will Need to Setup a Storefront
To have a wonderful experience creating a storefront you will need these:
A browser with crypto wallet integration.  I used Opera Touch from my iPad, but several other wallet brands are supported. Our intro to OpenSea uses MetaMask.
Sign (no fee) the terms of service digitally, using PIN/password/fingerprint for your wallet to sign the transaction.
An (optional) email address if you want to be notified when your item sells.
The wallet with some ETH.  For this guide I spent:
Sign (no fee) to authorize OpenSea to list the item for sale.
Start at the OpenSea Storefront Manager
The OpenSea project provides a very easy way to navigate the creation of a storefront on OpenSea.  Simply visit the OpenSea Storefront Manager and you are greeted with this in the browser.
If No Crypto Wallet Found
Without any browser integrated crypto wallet, a helpful screen will display showing some supported wallets. I used Opera Touch from an iPad which comes with a Crypto Wallet built in, so there were no hassles with browser extensions etc.
Create a New Storefront
Click Create on the create a new storefront card & digitally sign the no-fee transaction to accept the OpenSea terms of service.
Fill in the store details & make the payment to cover network fees.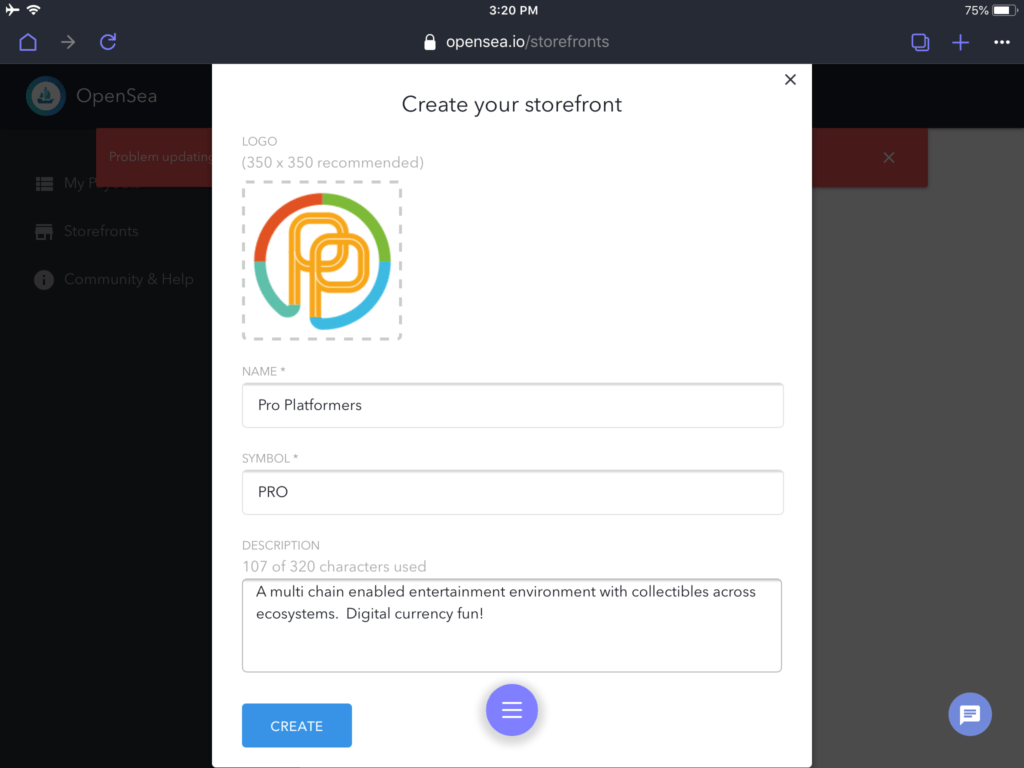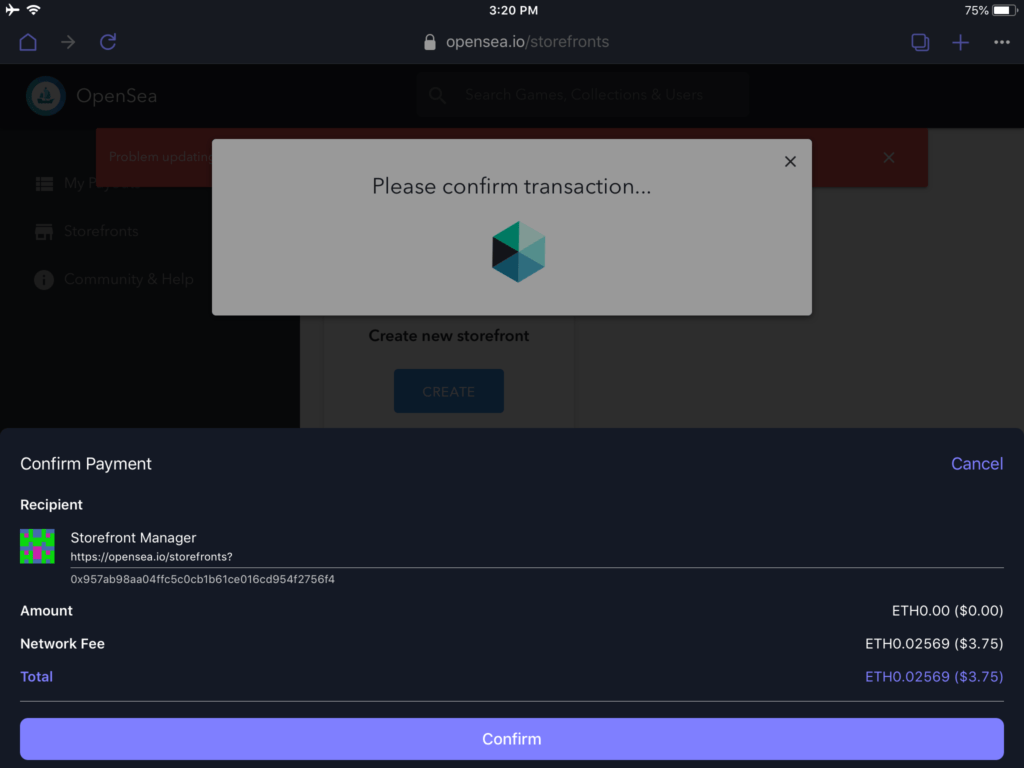 Wait for the transaction to be confirmed by the network and then the new storefront is created!
Create Storefront Summary
Until this point, we have created our token contract. This is the storefront - but it is empty, there are no items to sell. The token contract is empty. Adding tokens to this token contract is the following step. If you wanted to create another storefront, just repeat the above. It must be noted that creating the storefront (the token contract) is the most expensive part of the process.
Add Item To Storefront
Now it's time to add an item to your newly created storefront. Click into it and depending on your device width, you will see a screen with your storefront name, an edit option and a button to "Add Item".  Click the Add Item button and fill in the item details form.
Hint: It will be easier if you are prepared with your asset descriptions and any images you may want to upload.
For this item, I'm uploading a copy of some song lyrics with the purchaser receiving the right to be acknowledged in my next song about "Navigating The OpenSea" - a tongue-in-cheek play on words about sailing the world of digital items!
After filling in the item details, the storefront manager requires payment authentication to create this item (e.g a unique NFT digital item) to the storefront (the token contract).
After confirming the payment, the transaction needs to be confirmed by the network. This will take about 10-20 seconds and a notification should be received by your wallet integration. The following screenshot shows the Opera Wallet giving me a notification of a token created.
The view will then refresh automatically and show the new item.
The item is in the storefront, but it is not for sale yet. Consider it inventory in the shop, but not listed for sale yet.  Let's change that in the next step.
List Item For Sale
If you click the "Done" button from the previous screen or click on the breadcrumb to go back to your storefront, you will see the item in your storefront. Click into it to get to the details of the item.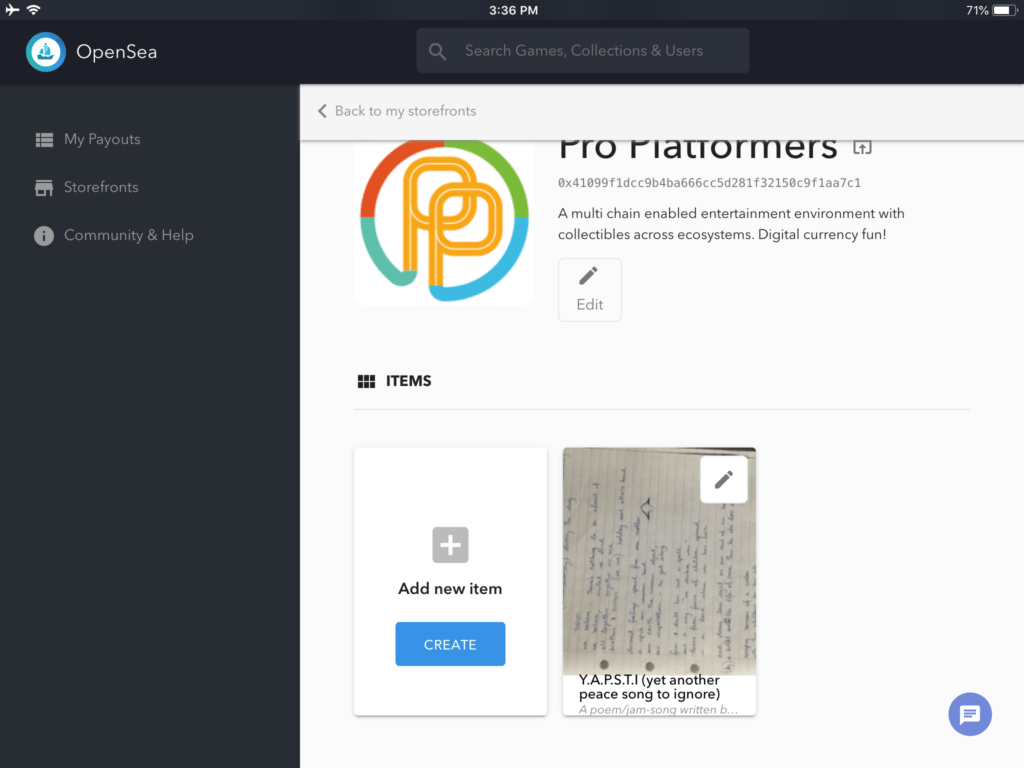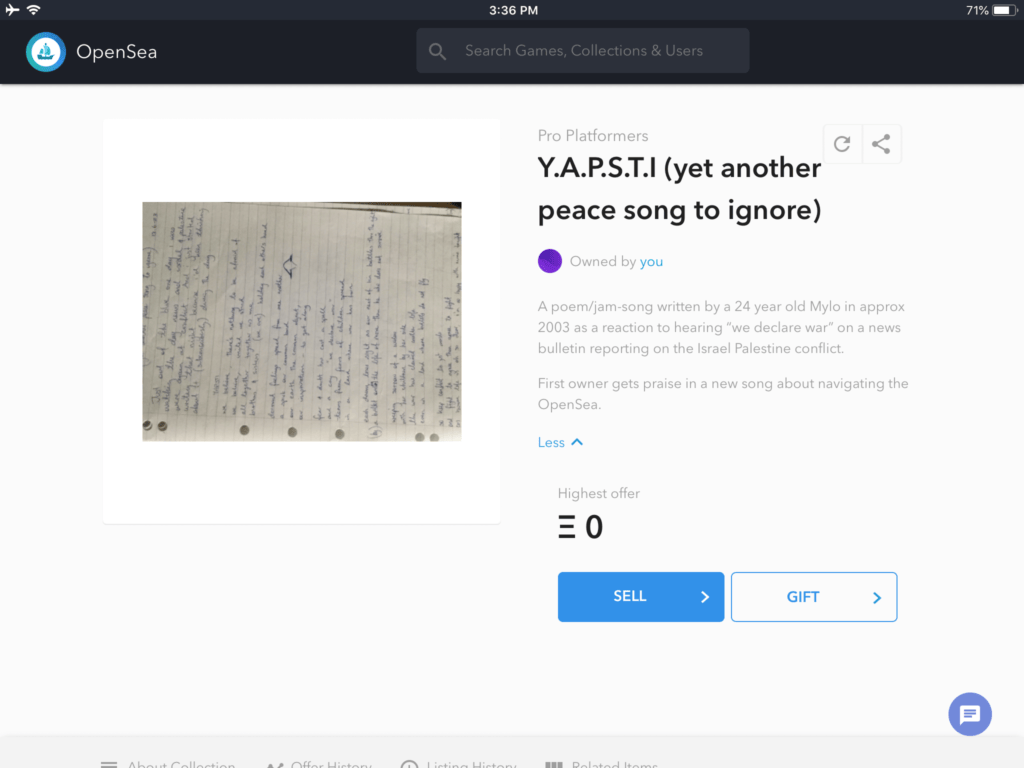 Now you know what you need to do?
Yes, sell it!
The details of how you want to sell it can be configured with:
The sale method: Set Price or Auction or Bundle Item
How much to sell it for
What currency you'd like to receive
The commission rate (referral bounty) for any referrers that sell your item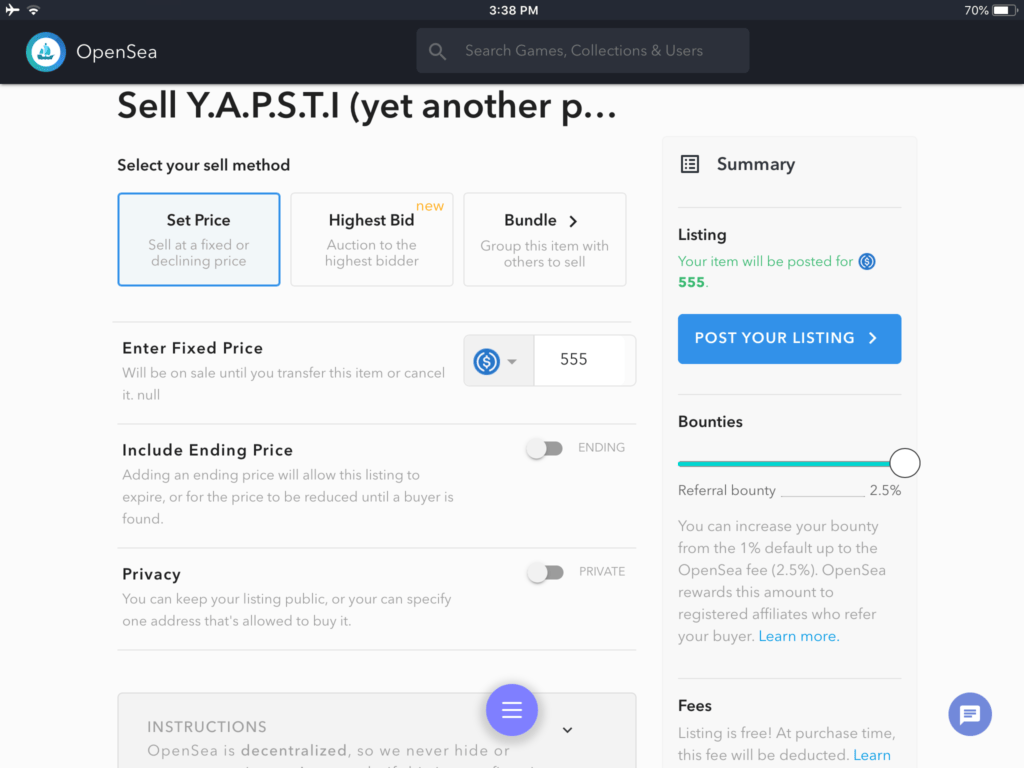 The fees is not an option to configure. Although listing the item is free, OpenSea will take a 2.5% commission for the sale.
Click on the "Post Your Listing" button and OpenSea will request for your signature authorizing them to list your item for sale.
Once this is processed, your item is officially for sale!
First Time Sellers Additional Authorizations
On the first item for sale, OpenSea will ask for authorization to sell items in your account. This requires a zero payment action, however the gas fees of Ethereum still apply.
Stablecoin Authorization
For my first item, I chose to sell with the USDC stablecoin as the currency. Because I was testing the Opera Crypto Wallet at the same time, and because of my lack of familiarity of the Ethereum transaction workflow as well as the requirement to authorize the use of a stablecoin, I was left a little overwhelmed with the requirements to confirm all of these transactions. I was lost for a few moments, but had faith that the system was working as intended.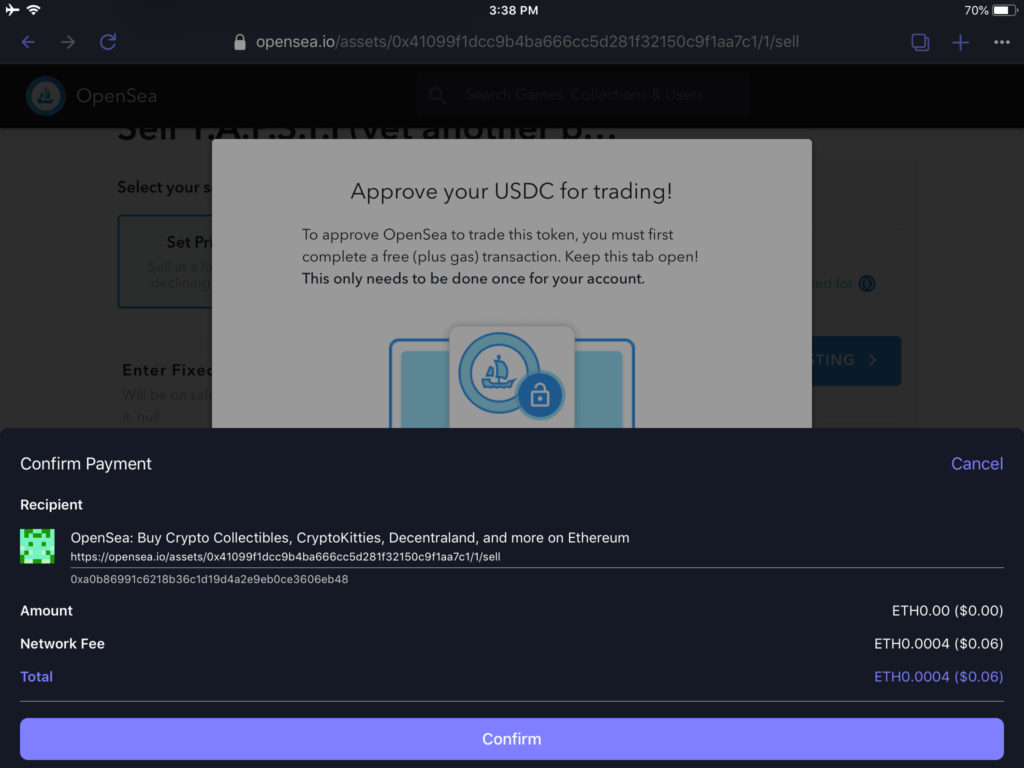 Item For Sale Summary
We made it! We have successfully listed our digital item for sale in our new storefront! Clicking into the item, we can see it's history from it's birth to it being listed for sale. In this case it is for $555 in USDC stablecoin.
Where To From Here
This only the beginning of the collectibles marketplace journey. The simplest next step would be to use storefront editor to make it look nice.  Take the Crypto Assault storefront as a clean example.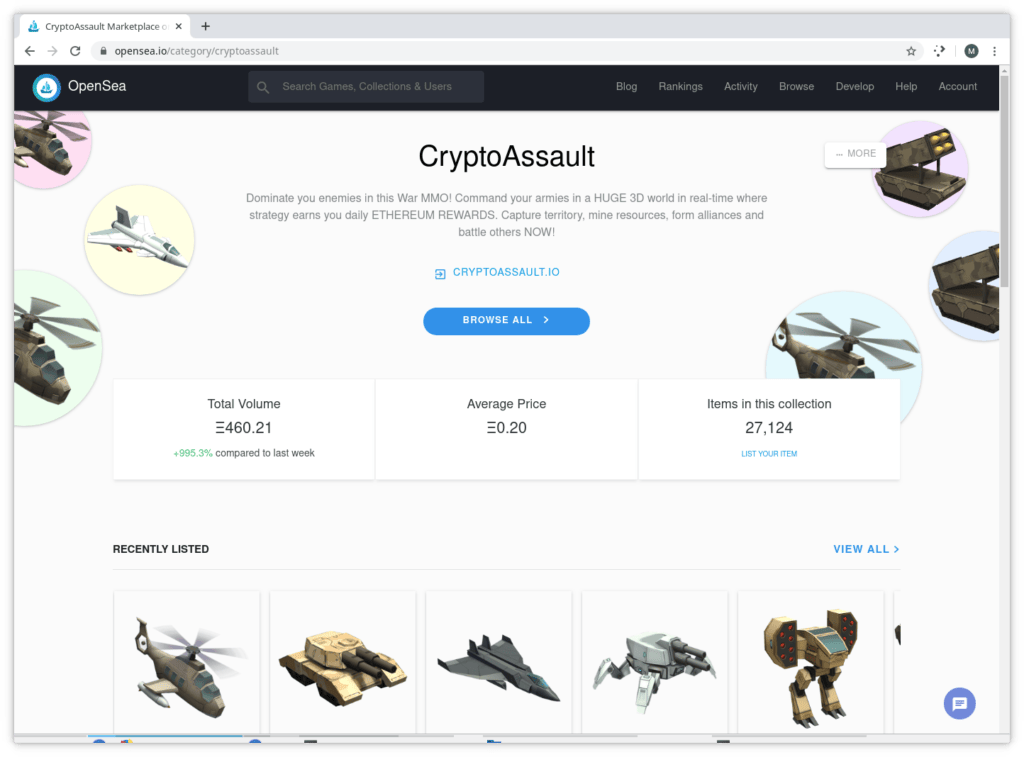 Other options include embedding the storefront into a website, or into a mobile application.
OpenSea is statistically speaking the eBay of collectibles, gaming items and every other digital asset backed by Ethereum blockchain. Trading on it occurs through smart contracts. OpenSea is a decentralized marketplace which means no central authority holds what you sell or buy on OpenSea, which includes the funds used to trade. Payment mode is only ETH and other ERC-20, ERC-721 or wrapped tokens backed by the Ethereum blockchain. Visit the project's home page.
OpenSea Volume
There are currently over 4 million digital assets available for sale on OpenSea. It is a decentralized marketplace where you can sell, purchase and auction your digital assets. The monthly volume is near 4000ETH in value. The largest margin of items traded are gaming items, crypto kitties, cards etc.
Who Can Use OpenSea
Your digital asset is sold directly on the blockchain, when you click on an item it has a 0X address instead of a URL/Name which is an Ethereum address. Even non-developers can create and sell their own items. You can also list your own smart token assets, if you are creating one for your game or other dApp (decentralized application) like non-fungible tokens etc. Moreover streamers, influencers can also be listed on this blockchain.
Marketplace for NFTs
OpenSea allows us to sell NFTs(Non Fungible Tokens) projects, get custom statistics, analytics and earn when our items are traded on OpenSea, Consider it a DEX but only for NFTs & other collectibles. The smart contracts are open source and the code can be inspected or contributed by anyone. They also have their own JavaScript library for developers willing to make their own contracts on the OpenSea relay. OpenSea can be integrated with your own websites as well.
How To Sign Up
Sign up is really easy if you have ever used MetaMask or another blockchain identity or browser wallet. OpenSea works exactly like traditional Ethereum exchanges or 0x relays validating transactions directly on the wallet, instead of sending it to an address. 
Read our MetaMask introduction article. For additional help, we have attached a graphical representation of this process.
Buying Collectibles
Just simply click buy & then wait for the blockchain to confirm and you now hold this NFT. This unusual validation process occurs due to OpenSea's decentralized nature. It doesn't hold the coins or the NFT you purchase or sell. You do via the blockchain and your private keys.
Help & Support
Help and support is available through an extensive discord community with almost 4000 members. This group has professional moderation. FAQ and Blog is also pretty extensive and intuitive.