Today we are using the Kyber Swap website to exchange some ETH to BAT using the built in crypto wallet of the Opera Touch browser on iPad. The Opera browser provides seamless integration between tokens and the browsing experience. Using crypto is easier than sending an email, and swapping between tokens using the Kyber Network liquidity is nearly instant.
The only recommendation we can make is to reduce the gas fee so it costs less to exchange.
What is Kyber Swap
Kyber Swap is part of the Kyber Network suite of integrations enabled by their unique approach to providing liquidity to traders. The short explanation of what Kyber provides is application developers have a choice of what kind of liquidity pool they can integrate with to give their users the best user experience for trading tokens.
Kyber Swap is an instant exchange using smart contracts to facilitate quick trades on the Ethereum network.
Now, let's walk through BAT/ETH trade on our iPad using Opera Touch.
Select Tokens To Trade
After allowing the browser's built in crypto wallet to be used on the exchange, its as simple as selecting the tokens to use for trade, pressing the swap now button & confirming to proceed with the order.
Confirm Sending From Wallet
Opera Touch then asks you to confirm sending by prompting you with an attractive slide up notification. The iPad security model then prompts for your passcode to send the funds.
Opera Touch integrated crypto wallet uses Apples security model too.
Wait For Transaction Confirmation
The transaction is then broadcast to the network by the Kyber Swap exchange. All transactions are settled on the blockchain via smart contracts. When the transaction has been mined into a block, the result is displayed on the screen.
Viewing Tokens In Wallet
From the result display, Kyber Swap enables you to make another instant swap or transfer tokens to another address with the built in wallet integration of Opera Touch. For now, we just close the results status display and proceed to the crypto wallet to view the tokens Kyber Swap let us exchange.
Binance DEX has a post about the guidelines required for getting listed on their DEX.  In the last 24 hours, CZ the CEO of Binance (Centralized Exchange) has created a proposal for listing BCH (Bitcoin Cash) as a pegged BEP2 token on the DEX.   The BEP2 token is a standard set of rules for using tokens on the Binance Chain.

The Binance Chain is a COSMOS ecosystem chain.  COSMOS aims to provide a multi-chain architecture like Komodo Platform offers.  Where Komodo has focused on atomic swaps powering DEX products for cross chain exchanges, the COSMOS ecosystem relies on bridges between zones.
This notion of bridges and zones is used for exchanging Ethereum's ERC20 tokens with COSMOS.  Whether Binance DEX uses these to afford projects seeking a DEX listing some liquidity is unknown. Whether projects can create their own liquidity pools is a topic for another article.
It is helpful that Binance has published DEX listing guidelines to assist users and project developers with being transparent & themselves follow.
Today we will review another amazing DEX build on 0x relay on top of the Ethereum Blockchain called DiversiFI (Formerly as ETHfinex). Diversifi is a decentralized exchange with a daily volume of $2,829,269 according to coin market cap, Ethfinex is a really nice exchange for trading Ethereum and ERC-20 tokens into USDT and other ERC-20 tokens and etc.
Please note that don't trade WBTC for ETH or any other ERC-20 token as WBTC has a bug in its contract and amounts and values aren't displayed correctly my coins are still stuck in a specific wallet and have tried many alternatives to recover them.
Rebrand Update:  Ethfinex has rebranded to DeversiFi - visit the project website.
On the main page of Diversifi you will see trading charts, tables and etc, there are no fancy sign up process involved to trade on it as we have saw in every 0x relay it simply gets connected with any Ethereum wallet and interacts directly with the wallet to send and receive Ethereum or ERC-20 tokens you want to trade.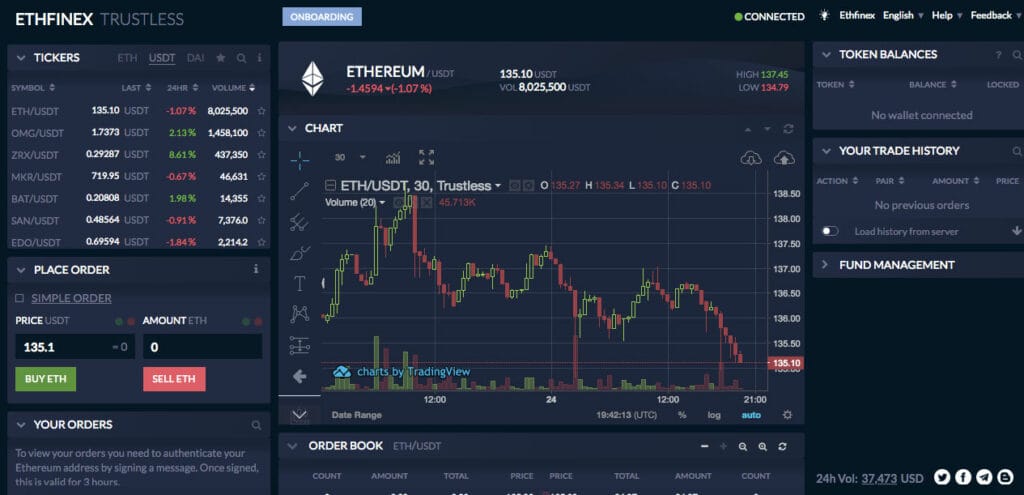 Connect Wallet
To setup coins for trading you have to connect your wallet there are many options to consider but I prefer MetaMask if you are new and it is more easy and secure,
Once you select MetaMask, it will open up a pop up screen asking you to connect your wallet with Ethfinex,
Account Balance
After connecting the account the balance in your wallet will appear on Ethfinex, does that mean Ethfinex now hold my coins? the answer is no, the coins are only displayed in for of WETH (Wrapped Ethereum) which is the standard protocol for Eth used for trading, the coins are unlocked on Ethfinex and it is your choice to lock them for trading or cancel, the coins are unlocked by default and traded coins are unlocked by default,
To trade on Ethfinex the steps are pretty simple and standard like every exchange in the world select a pair click buy or sell depending on your case, the newly exchanged coins will appear in your token balance which you can withdraw by locking them they will be locked by default,
Trading Fees
The fees associated with Ethfinex are from 1 to 5 percent minimum to maximum and support can be found on telegram and blogs while there is facebook and twitter community as well.
One of the largest Crypto Assets exchange in the world Binance previously launched Binance DEX.  Binance is one of the largest exchange in the world with more then 450 coins listed to trade on it and with a daily volume of 1.35 billion.  It is a beast for traditional traders who liked to trade on centralized exchanges.
Binance had its own coins named after the exchange which had a price of $16.84 at the time of writing this article and a daily volume of 47 million dollars contributing almost 3.5 percent on the daily trade of it.  It is still doing fine as compared to many exchanges but technology will move to secure decentralized exchanges,recently the CEO of Binance launched a testnet DEX for Binance in February stating:
"Binance DEX is a decentralized exchange with a decentralized network of nodes, where you hold your own private keys and manage your own wallet," said Changpeng Zhao (CZ), CEO of Binance. "With Binance DEX, we provide a different balance of security, freedom, and ease-of-use, where you take more responsibility and are in more control of your assets."
Please note that the current DEX is on testnet server and still updating passively until a final release.
The current Binance DEX is developed on Binance chain which is a new protocol of blockchain developed by Binance and its community specifically for creating the Binance DEX.  The current Binance coin is an ERC-20 token which will be migrated to Binance chain forming itself into a completely native coin instead of an ERC-20 token.
To start with Binance testnet server the first step is getting Binance coins. The current dex only has an option to deposit in Binance coin, but in this article we will give you a brief review of the exchange, how to setup a wallet and setup your account to exchange coins,
The main screen of testnet Binance DEX will look something like the above image you need to setup a wallet for Binance DEX, which is slightly different then many 0x DEX relays we reviewed before. It works like a normal exchange, the first step is creating a password and downloading the keystore file,
The next step will display your seed phrase which will contain 25 words. Copy it or write it down in cold storage, then you will be guided to a confirm phrase screen which will ask you to arrange the seed phrase according to the series and you are done.
Log in to binance this step gives you many options. Logging in via:
Keystore and password
Seed phrase
Hardware wallet
Private key which will be saved in your browsers cache memory
After logging in you will get the main trading screen with insights into:
charts
trading pairs
24 hour volume
price
On the current testnet server there are 4 main pairs associated:
BNB (Binance Coin)
BTC.B (Bitcoin Binance)
ETH.B (Ethereum Binance)
USDT.B (USD Tether Binance)
The .B after all main trading pairs to display that the current DEX is running on Binance chain and the coin will also shift itself to Binance chain.
The process for trading on Binance is really simple and follows standards used everywhere.
Select a pair
Choose whether to buy or sell
As previously said, for the time being it is a testnet server running on a temporary chain. Deposits cannot be made in any other coin except for BNB(Binance Coin).
However, if you have traded BNB to ETH for instance you can withdraw it from the balances page, any coin can be withdrawn in Binance,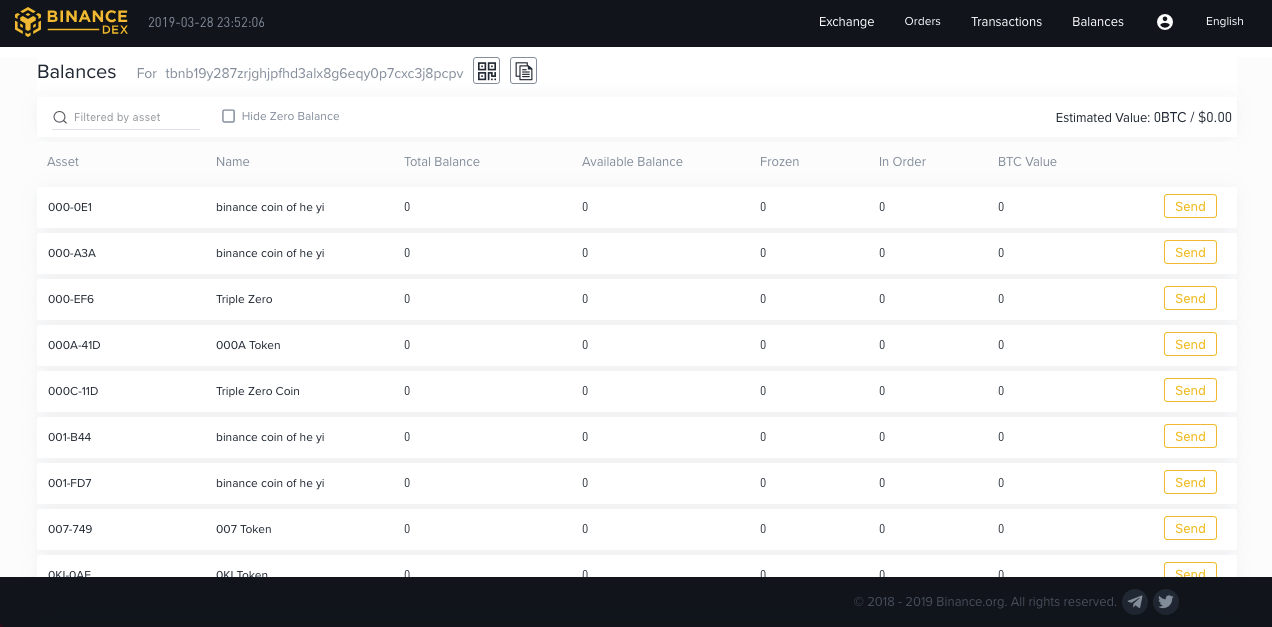 There are currently 325 coins listed on binance that you can trade to and from in ETH, BTC, BNB or USDT pairs.  There are a lot of options for DEX lovers and enthusiasts as there aren't many DEX available providing this variety of coins to trade from.
The current customer support is available through extended FAQ and Documentation, while there is a blog available as well, there is no phone or email support for now but telegram is available for users.
Binance DEX is just a recent launch on 20th February the server is a testnet but even in so less time the community has made it popular choice to consider. When you want to go for a DEX similar to a CEX experience, the Binance centralized exchange was really popular.  Binance aims to update and move forward the DEX technology by introducing Binance chain and changing the perspective of how we see blockchain and exchange technologies.
Today we will review HyperDEX.  It is another amazing multi coin wallet and decentralized exchange that works with P2P order books.  Trades made on HyperDEX are made via cross chain atomic swap technology. This means it works slightly differently than a centralized exchange.
HyperDEX is open source and still in development stages as we will be reviewing the Beta version of HyperDEX.  The code can be found on Github and you can easily contribute as a developer.
This multi coin wallet is safe and easy to use with a user friendly interface and the portfolio allows to send, receive and exchange 100+ cryptocurrencies and tokens. In this article we will tell you the steps on how to setup a wallet send and receive coins and how to exchange your tokens.
Please note we are reviewing the Beta version of HyperDEX it is still in development as it is stated on GitHub page it might have some issues in market maker and might lag on some different versions.
Upon downloading we can see a signup or create wallet screen like this,
Create a new portfolio or restore your wallet with the backup seed phrase. The next screen will be creating a portfolio name and password, like username and password which will be used for later log in for the wallet,
A backup seed phrase screen will be displayed with 12 words, standard on every wallet and that can be used for backing up wallet data, the seed shall be pasted/confirmed on the next screen.
We are all set here you will now be navigated to the wallet screen which has some popular coins listed on the left hand side,
To send or receive coins hit on the receive button once selected a coin and you can send coins through QR code or address,
This is how your screen will look like once you have received the coins, displaying value in both Ethereum(in this case) and USD, while telling you the updated market price,
Same goes for withdrawals a popup screen with appear which will then allow you to paste address and amount and you can withdraw your coins.
HyperDEX is really easy to use with more coins can be listed or added from the settings menu.  It supports more then 100 coins in early stages which is remarkable!
Seed phrase can be downloaded again from settings menu as well as all your trade history can be downloaded into CSV format for safe keeping or proof, the trade screen shows all the history of open and completed trades, HyperDEX is also easy to use and new comers can easily trade but few things to keep in mind as it is still in development stages and wise not to do trading as the current market maker link is unstable, custom market maker can be implemented in HyperDEX of your choice for flawless trading, this option is available on the login screen,
HyperDEX is really easy to use and has a multi coin wallet.  It is secure dApp and can be used for storing Bitcoin, Ethereum or other Altcoins.  This wallet can be accessed from GitHub and the source code is also available for contribution. It is still in development and will be completed and ready for a final launch this year according to our sources.
Today we will talk about another DEX called IDEX. It is a decentralized exchange that is built on top of Ethereum blockchain that allows us to trade ETH and other ERC-20 tokens into other digital assets and crypto-currencies. IDEX is an emerging exchange but still the current daily volume is 1 million USD plus.  Visit the project website once you read this review.
IDEX combines the experience of a centralized exchange which means, exchanges are done instant within seconds and it provides seamless security which makes it a good choice for traders to do business on. In this article we will review on how to make an account on idex and how to trade on it, when on the IDEX site we will get a main page like this,
Create a Trading Wallet
To create a new account go to the New Wallet Page, it will only ask you to create password, the username or the keystore is by default stored in your browsers cache,
The Next step is saving the private key and backup files such as key stores and private keys,
The signup process is done here the next step is setting up the wallet, IDEX provides a list of options when it comes to making a wallet, is even hardware and 3rd party wallet integration as well,
I had MetaMask on my browser so i chose software wallet but you can create key store or private wallet which is recommended if you are new.  For private key wallet just paste the private key where it asks you to, once your wallet is done the most important thing is understanding the concept of how IDEX works for deposits and withdrawals.
Deposit & Trade
You have to send Ethereum to your wallet address on the top left side of IDEX, once sent go to the Show Full Balance page,
As you can see I have ETH in my account but i can't trade ETH until I deposit it into IDEX tradeable for this just click on the DEPOSIT button,
One this is done your ETH balance will be shifted into IDEX balance which is now tradable and you can purchase or sell assets,
To trade on ETH simply select the pair from the main screen, for the sake of this article I selected WBTC/ETH pair for trading purposes,
Trading is really simply on IDEX pretty standard like many exchanges and is easy to navigate if you are new and don't know much about trading, the trade was successful and I received WBTC within seconds,
Withdraw BTC
The WBTC was in my Balance page and for withdrawal the process is same as it is for deposit the balance is first into IDEX wallet which then you have to withdraw to the My Wallet Balance,
To transfer this WBTC from IDEX to another wallet you have to hit the Transfer button, enter address and amount and transferred,
Trading Fees
IDEX charges 0.2% for the market taker and 0.1% for the market maker. Users also pay gas fees to put their transactions on blockchain.
Live Chat Support
IDEX has mostly positive reviews on the internet and the people who came across it mostly left positive comments, maybe dude to the live chat support, which was indeed live when I needed consultancy, the agent was connected and replied to every question or query regarding IDEX, sending or withdrawal etc.
Overall IDEX is a real positive exchange from my point of view and all the aspects such as liquidity, capacity, security, support met the standards.
One of the biggest disadvantages I encountered on waves platform was proxy tokens, I had LTC worth $10.60 in my waves wallet which I wanted to transfer, unfortunately an error occurred on waves on insufficient funds, I changed amounts and tried to make lowest transaction possible, same thing happened when I tried $2, this was because of the fees,
This problem aroused due to the proxy tokens.
What is a proxy token?
Simply speaking proxy token is a coin that is not yours originally, proxy coin or another alternative asset instead of your asset is traded in the current DEX system, which is really annoying if the server or the proxy is shut your coins can get stuck and you are left with nothing in hand. In this case fees shall be paid in both Waves and LTC. Why does this happen?
Waves blockchain is used to send your tokens to the gateway need to pay a fee in WAVES, then use LTC blockchain to send it to another address and should pay the fee in LTC to carry out this transaction.
The problem with almost every current DEX and dApp is the proxy fee and tokens, I created support request on Waves support and went to the Discord community of waves, to the Discord community I got an instant reply by one of the community managers something like this.
This is the create support ticket option,
To the email support I got reply 15 minutes prior to the dispute time also stating the same, and suggesting to convert some LTC into Waves, just for a withdrawal.
So for the solution I tried trading some of the LTC into Waves on the exchange page under WAVES/LTC pair,
The transaction was instant and WAVES got loaded within 30 seconds into my wallet, then I tried doing the withdrawal of LTC and was successful this time,
To the people new in trading this is the biggest problem with almost 90 percent of the DEX and dApp(Decentralized Apps) like wallets and other services, the algorithm developed is based on proxy tokens and these exchanges are built on top of their blockchains so there are multiple fees related plus long and hefty processes associated with them, better options are to use centralized exchanges, until KMD releases its DEX which is improving DEX algorithm to improve trading on decentralized platforms.
Today we will review about WAVES DEX (Decentralized Exchange) and some interactions of different version of waves, Waves is not only a wallet but a decentralized exchange as well which makes it stand apart but for those who are not familiar with these terms the very first thing to know, what is Decentralized exchange.
The term DEX refers to exchanges with no central server just like the basic idea of creating cryptocurrencies increasing anonymity and stability for stake holders and investors, the technology of DEX is also the same, DEX has no mediator(the one which holds coins) like other normal exchanges, the coins are converted off chain directly from the blocks of one coin to another.
But however DEX carry risk factors with them it may contain anonymity but almost every DEX in the world uses proxy token or third parties if a third party is asleep or shut down coins get stuck just like FIAT transfer, this factor shall be kept in mind before using any DEX, KOMODO is working on an algorithm which will be released soon to improve DEX technology which will be instant and is about to launch this year.
HOW TO EXCHANGE:
Exchanging coins on WAVES is really easy when on the main screen of the exchange page we will see coins list, order book, market depth, open orders, history etc, but that should not make you worried, the main screen of exchange will look like this,
To exchange a coin we must select a pair from the left hand side of the screen for this article we will convert LTC to BTC, after selecting the coin we have to enter the amount in buy or sell coin from the extreme bottom right corner which may look like this,
Just simply click on the SELL LTC (or any currency in your case) and you are done, your newly converted BTC will be in your wallet soon, depends on the coins, amount, blocks, waves is exchanged instantly usually as this DEX is built on top of WAVES blockchain and uses WAVES as a proxy token.
FEW TERMINOLOGIES TO KNOW:
In WAVES multi-coin wallet you will see a work called coin leasing, what is coin leasing?
Coin Leasing is the process where big crypto investors lease their coins for interests/ profits on monthly or planned basis instead of buying and investing on big machines and heavy systems (In POW algorithm) to mine coins coin leasing is an alternative where you sit back and just enjoy the profits, but coin leasing is suitable and profitable for crypto investors with significantly larger investments to spare.
Another term you will see while searching for DEX is atomic swap, Atomic cross chain swap (ACCS) is the core concept/algorithm behind DEX technology which allows coins to swap each other chains and get exchanged without trusting each other safely, the concept is good but WAVES isn't built on Atomic Swap technology.
To conclude DEX till now aren't the most suitable choices for exchange purposes the technology maybe good but there can be issues and errors as we said before, KOMODO on the other hand is working really hard to improve DEX technology minimizing proxy tokens and security risks and totally blockchain enforced transactions on DEX.
Today we will review one of the really popular web wallets called WAVES. It is built on the crypto currency WAVES and their team. It is a multi-currency wallet and an exchange as well. Waves is available for web, desktop, iOS and Android as well. Waves web is really similar to waves desktop version and are connected to each other.
Waves is open source, good news and the exchange is (proxy token) DEX (Decentralized exchange), which makes the exchange easy but it is really not suitable for beginners or newbies to trading, Waves is a multi-coin wallet, listing 10 default coins which are the most used and popular coins, including Waves,BTC,LTC,XMR,ETH,DASH etc, waves also deals with Euro and USD which includes FIAT money such as Bank transfers and credit card purchases.
Setting up:
Signing up in Waves is pretty easy and basic on the main screen we click get started, the next screen is address and avatar generation, this address is for waves official coin, the next screen will be account name and password, after this process we get a 15 word seed auto generated randomly by waves (this is really important as almost every wallet uses backup seed), you have to download the seed or write it down physically on a piece of paper after copying or downloading the seed waves will ask you to confirm seed in the right order, and we are done creating a wallet here now we can send and receive coins easily. Here is a graphical representation of the process.
Navigating through waves wallet like sending, receiving coins is also really easy and basic, the assets section contains all the coins we have listed and option to add more coins, the portfolio section includes which of our coins have got balance in my case I have got LTC,
The transaction page consists of all the transaction history including sent, received, exchanged, leased and issued. We will talk about the advanced terms in the next article on waves.


Sending and Receiving:
Let's talk about now sending and receiving coins, waves has got two methods for sending coins a simple transfer and a mass transfer, to send coins we simply click on the send button and get a popup like this,
This requires and address , amount in either USD or LTC , a description which is an optional message and send ,however mass transfers may look like this,
In Mass transfer waves allows us to transfer to 100 people at a time, the format is simple for example,
LKqJHoXmNfHDhkUX5mi5MYYS1rkhwQDFLP , 0.10
LKqJHoXmNfHDhkUX5mi5MYYS1rkhwQDFLP, 0.20
Using this format we can transfer to 100 people at one time each recipient shall be entered in a new line a CSV file can also be imported for Mass transfers.
Receiving coins is also really easy in waves just simply click on the receive button and there will be another popup screen, in waves we have got two kinds of receiving options, first is by copying the address and sharing it to the sender, which looks like this,
The other one is invoice, just like Paypal receiver gets a payment page made and can be shared to the sender, which then has to login to his account to pay on the address,
Waves with FIAT:
Waves works with FIAT currency as well, USD in your account can be loaded by creating invoice or by loading your account through Bank transfers, however there are some terms to accept before accessing this feature, a user must be ID verified and must be from somewhere in Europe as Waves doesn't accept USD or Canadian bank transfers.
Apart from Banks,waves allows buying crypto using credit cards but only waves can be bought from credit cards, that is really not an issue and waves can be exchanged into a coin of your choice using the same portal through Waves DEX, it really is good for people looking to buy coins instantly.
Security and Support:
The security setting can be accessed through the settings icon and we can see our private keys and backup seed, the private key is stored in the browser and the backup seed is stored offline into our disks or papers, Waves can also be connected with other hardware wallets.
Waves has a huge support forum, which includes FAQs, how to on using waves and its DEX and script transactions, support is available on Discord, Telegram (US,CHINA,RUSSIA and GLOBAL), Reddit community, Waves forum, Waves blog, links can be accessed through.

https://support.wavesplatform.com
This article was about accessing waves navigating through the options, sending and receiving coins, basically for newcomers in the world of crypto currency. In the next article we will explain you the technical side of Waves platform which includes DEX on how to exchange coins, everything you need to know about it, what is leasing, how to add tokens on Waves, scripted transactions for more crypto enthusiasts.